Billy Stark attempts to appease Bairns boss
The Scotland Under-21 manager understands Steven Pressley's comments and says Falkirk's young players will get their chance soon.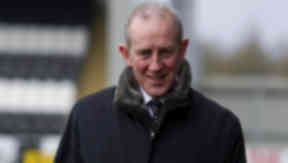 **Scotland Under-21 manager Billy Stark says his decision to leave several of Falkirk's young stars out of his squad is an indication of the strength and depth of his current group. **
Bairns boss Steven Pressley questioned Stark's selection process after several of his players were overlooked for call-ups for Wednesday's Euro 2013 qualifier against The Netherlands in Paisley.
However Stark insists he is well aware of the talented group currently plying their trade at the Falkirk Stadium, but simply decided to go for more experienced players this time around.
In response to Pressley's remarks, Stark said: "I think somebody asked him the question. If you get a question you respond to it.
"Craig [Levein] said that with the full squad, if there are good players that can't get in the squad, it's a good indication of where we are.
"But Falkirk have got players who are well on our radar, they have just not been picked for this one.
"I can't spend time going round apologising to everybody. You pick whatever you think is the best squad for the time and you go on from there.
"You can't have a new squad of players every time you play, because you are trying to qualify for a competition.
"It's the same with any squad, you do have a core. By a core I mean 20-24 players but even within that there are one or two who have been with us and are not with us this time and one or two new ones have come in.
"You always have to make sure people know the door is open if they are performing really well and consistently.
"Gary Mackay-Steven and Michael O'Halloran have shown that.
"Leigh Griffiths and Alex MacDonald have dropped out just now, but Alex has just gone to Plymouth and is starting to score goals."
And Stark says 19-year-old defender Kieran Duffie is in his sights ahead of the next campaign.
He said: "I said at the outset that there is a bigger group of players that will all make a contribution.
"You can only pick 18 to strip and 11 to start. There are difficult decisions there and that's what coaches have to make.
"But these players are part of our plans, there are one or two of the younger Falkirk ones. Kieran Duffie is probably nearest to the under-21 age, and he is available for the next campaign."