Jamie Hamill says he can be spot on for Hearts
After penalty success against Royal Antwerp, the new Hearts signing says he is happy to undertake penalty duties.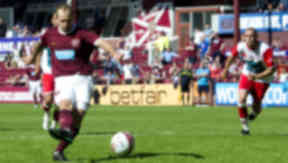 Jamie Hamill has said that he is happy to take on the responsibility of taking penalties for Hearts this season.
Hamill moved to Tynecastle from Kilmarnock in June and bagged his first goal for the club when he scored from the spot against Royal Antwerp in a friendly on Sunday.
Fellow new recruit John Sutton is also in contention to be regular penalty taker, having been Motherwell's first choice for spot-kicks last season and Kevin Kyle, currently out injured, had been the previous penalty taker for Hearts.
Hamill said his record in recent seasons meant he had the belief to be a success from the spot.
"Big Sutts grabbed the ball and I just asked him for it," he explained. "I think he scored a few last season but I scored more.
"I think it was eight all in. I scored seven and got the rebound for one and I think I scored about four or five in previous seasons.
"So I was willing to step up.
"I had a laugh in training with big Kev because he said he was hitting them when he was fit. He's a big boy and you don't want to argue with him but I think I will get to the ball quicker. Hopefully in the next game I'm playing we will get a penalty and I will take it."
The former Killie player said he had enjoyed the reception he got from the Tynecastle crowd and had been happy with his move so far.
"It's different going out there as a Hearts player," he said. "I didn't get as much abuse, although that might come.
"I'm looking forward to the season and it's good to play at Tynecastle as a Hearts player.
"The fans are brilliant and it will be good playing here this season."