Hearts' Andrew Driver to hand in transfer request
The winger wants to leave Tynecastle having failed to force his way into manager Paulo Sergio's plans.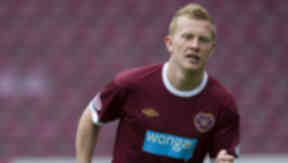 Andrew Driver will hand in an official transfer request to Hearts on Monday as he looks to secure a January move away from the club.
The English-born winger has failed to hold down a regular starting berth under manager Paulo Sergio, playing just eight times this season.
Driver's agent, Scott Fisher, says the player has "reached the end of his tether" after being "constantly overlooked" by Paulo Sergio.
 
"The only excuse Paulo Sergio has given him is that he isn't working hard enough," Fisher told STV.
"Andy has forged a career being hard working so for Sergio to turn around and say that is laughable."
 
"There must be ulterior motives as to why he's not playing."
 
Fisher confirmed the lack of game time, coupled with repeatedly not being paid on time, has forced his decision.
Having struggled with injuries in recent seasons, Driver has been fit all season but has only been used sparingly.
His last appearance for Hearts came in their defeat to Celtic last weekend, playing the last 12 minutes after coming on for David Templeton as a substitute.
The 24-year-old, who made his debut for the club in 2006, has made a total of 118 appearances, scoring 17 goals.