I wanted to be number one again, says new Hibs manager Calderwood
New Hibs manager Colin Calderwood says it was tough leaving Newcastle United but he wanted to be top man again.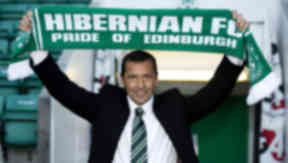 Colin Calderwood has said that the opportunity to be a manager in his own right again was part of the attraction to joining Hibernian. The new manager at Easter Road had been assistant to Chris Hughton at St James' Park after previous spells as a boss with Nottingham Forest and Northampton Town.
Calderwood, who was named as John Hughes' successor at a press conference on Monday, admitted it was difficult to leave his job in the English Premier League but said he was thrilled to be taking on the challenge in Leith.
"It's a double-edged sword really," he said. "Newcastle are a terrific club with wonderful people, the support staff and the players especially, I had a terrific relationship with them.
"So emotionally it was (difficult) but professionally it wasn't.
"I always wanted another go at being a manager. Being a coach and assistant to Chris was a wonderful opportunity and we had a super year last year, but I always had an eye on being the number one and setting my own agenda.
"It's top-level football. Although my experience has given me a lot of games, I have developed as I did as a player, starting in the lower leagues and coming through. That experience will be invaluable."
Hibernian chairman Rod Petrie cited Calderwood's record as one of the key attributes that had made him their ideal candidate for the job. The manager had won promotions with both Northampton Town and Nottingham Forest when in charge there and was credited with making a huge contribution to Newcastle's success in the Championship last season.
"He has signed a three-year contract with us and there are provisions for it to be extended.," Petrie said.
"He has had great success as a manager in his own right with Northampton Town and Nottingham Forest - almost 300 games as a manager and a win rate of over 45%.
"He has achieved three promotions in six years in the clubs he has been at."