Polish referees pull out of Scotland trip
Hubert Siejewicz, Pawel Gil and Marcin Borski were scheduled to provide cover at three Scottish matches.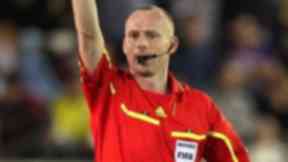 The Polish FA have announced that three referees due to travel to Scotland - Hubert Siejewicz, Pawel Gil and Marcin Borski -  will now not provide cover at Scottish football matches.
In a statement to STV, a spokesperson for the Polish FA confirmed: "We will not be sending our referees to Scotland tomorrow because they are needed for our domestic games.
"We did confirm to the SFA yesterday that we would be sending a team of 12 officials but that is no longer the case. Our domestic games take place today [Friday], tomorrow [Saturday] and Sunday."
When asked by STV why the situation had changed so abruptly and whether or not it was a decision of the Polish FA or the referees themselves, the spokesperson declined to make further comment.
Borski was scheduled to referee one of the eight games scheduled for Saturday, assisted by Rafal Rostkowski and Maciej Szymanik. The fourth official in Borski's team was be Pawel Raczkowski.
On Sunday, Gil was to be assisted by Marcin Borkowski, Michal Obukowicz and Zbigniew Zych. The third referee team, who were also to be used on Sunday, was to be headed up by Siejewicz. He was to be assisted by Konrad Sapela, Radoslaw Siejka and fourth official Pawel Pskit.
There are two games going ahead on Friday night, with Cracovia Krakow hosting Belchatow and Legia Warsaw travelling to Polonia Bytom. Four games are to be held on Saturday, with a further two following on Sunday.
REFEREES GO ON STRIKE