SPL financial health check: Kilmarnock
A look at the state of finances at Kilmarnock from PricewaterhouseCooper's most recent report and previous findings over five years.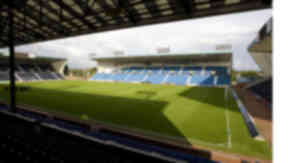 The data presented is taken from PricewaterhouseCooper's financial reports into the Scottish Premier League, extracting available figures from their latest findings and previous releases.
For a general overview on the state of the SPL clubs' finances, you should read: SPL clubs record profit but report warns of uncertain financial future.
Summary
Despite attracting supporters back to Rugby Park, Kilmarnock were hit very hard by the loss of the Setanta TV deal. The spend on players wages has increased year on year, and the sudden and unexpected loss of revenue from television meant that the club were spending far more of their turnover on salaries than they had previously. Net debt has been reduced year-on-year in the past five seasons, but profits have only been achieved through the sale of players, notably Steven Naismith's sale to Rangers in 2007/08.
Attendances
2009/10: 5,919
2008/09: 5,727
As comparison
2004/05: 5,930
2001/02: 7,621
Wages
 
2009/10: £4,043,000
2008/09: £4,052,000
2007/08: £3,764,000
2006/07: £3,900,000
2005/06: £3,200,000
Turnover
2009/10: £6,136,000
2008/09: £6,922,000
2007/08: £8,664,000
2006/07: £8,000,000 (circa)
2005/06: £7,500,000 (circa)
 
** Wage-to-turnover**
 
2009/10: 66%
2008/09: 59%
2007/08: 43%
** Profit/loss before tax**
 
2009/10: £467,000 loss
2008/09: £950,000 loss
2007/08: £1,500,000 profit
2006/07: £0 (circa)
2005/06: £100,000 profit (circa)
 
** Net debt**
 
2009/10: £10,536,000
2008/09: £11,232,000
2007/08: £11,424,000
2006/07: £11,700,000 (circa)
2005/06: £12,500,000 (circa)
 
** Director comment, Michael Johnson, chairman**
 
"The SPL is currently undertaking an in-depth review of the structure of Scottish professional football and there could be a new format for the league in the near future. Two key problems must be addressed, however: the inequitable distribution of the SPL's central revenues, which sees the teams finishing first and second receive 32% of the total; and the ridiculous requirement for an eleven-to-one majority in favour of any major rule change. Lack of flexibility on these points might result in the existing format remaining in place."