Motherwell appeal to SPL over 'unfair' post-split fixtures
The top six finishers have requested a meeting with the Scottish Premier League after being given two away games against the Old Firm after the split.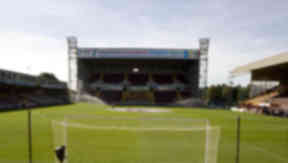 Motherwell will protest to the Scottish Premier League over the results of the post-split fixture list. The Steelmen, who finished in this season's top six, have been given just two home games for their final five games, meaning they will finish the season having played 20 of their 38 fixtures on the road.
Dundee United and Hibernian will be the two teams to visit Fir Park when the next round of fixtures start this weekend, meaning Craig Brown's side won't get home games with either Rangers or Celtic.
That decision has upset the club's board, who feel that their club has been penalised on both a financial and competitive front. Home games against either Old Firm side leads to increased attendances, as well a spike in corporate hospitality revenue, which they will now miss out on.
Motherwell are also fighting it out for a place in next season's Europa League and feel they have been handed a tougher run of fixtures than their opponents for the league positions which yield a qualification spot.
In a statement released on Monday afternoon, the club outlined their disappointment at the fixture list, which was released on Saturday, and says they will seek immediate talks with the league to remedy the situation.
"The board of Motherwell FC are deeply concerned about the outcome of the post split fixtures and its implication for the sporting and financial position of the club," the statement read. "We are seeking an immediate discussion with the SPL on what has happened and why and have a duty of care to our fans, shareholders and employees to ensure that the apparent inequity we have been asked to suffer is remedied.
"We understand that the SPL cannot please everyone with every fixture decision but the decision making process has resulted in a deeply unfair outcome both competitively and financially and we cannot let that stand. All avenues of protest will be considered."
Motherwell have already played Rangers twice at home this season but have welcome Celtic just once, losing 3-2 in a topsy-turvy affair back in December 2009.
They are due to travel to Parkhead to take on Neil Lennon's team in the final pre-split fixture on Tuesday night but will then have to travel to Glasgow again to face them on May 1, eight days before a trip to Ibrox.