Is this the best goal celebration of all time?
Players from Iceland's Stjarnan celebrated their winning goal over Fylkir in style with an inspired moment of joy.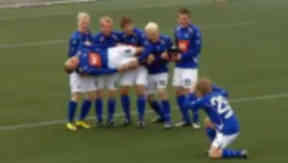 A volcanic ash cloud blew across Europe from Iceland earlier this year and now it seems a colourful goal celebration by top flight side Stjarnan will draw the eyes of the world back to the island nation. A last-minute penalty winner from Orri Halldor Bjornsson prompted the hilarious and wonderfully choreographed routine.
It wasn't so much Match of the Day but 'catch of the day' for Stjarnan, as they hailed their goal in a 2-1 win over Fylkir. While the image of a footballer mimicking casting a line and reeling in his catch has been seen before on the pitch, no-one had gone as far as Bjornsson and his team-mates.
As the striker started to reel his imaginary line in, one of his team-mates played the role of the catch, bouncing across the pitch towards the number 10.
Stjarnan's players then proceeded to help Bjornsson with his 'catch', hoisting the player up and posing for a pretend photograph together.
The video of the moment has started to work its way across the globe at a far quicker pace than the cloud from the Eyjafjallajokull volcano earlier this year, with many dubbing it the best goal celebration of all time.
Both sides sit near the bottom of the Icelandic First Division, which is currently led by Breidablik, who Motherwell knocked out of this season's Europa League 2-0 on aggregate. But if points were awarded for style, Stjarnan would be leaders by some distance.