Gow leaves Well as McCall looks ahead to Dens cup clash
Fir Park manager will free up wages to strengthen other areas of the park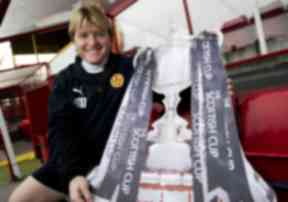 Nomadic forward Alan Gow is on the lookout for club number 10 of his career after Motherwell manager Stuart McCall confirmed no new contract has been offered to the 28-year-old.
The skilful former Hibernian, Rangers, Falkirk, Plymouth and Norwich attacker joined the Fir Park club on a free transfer in the summer but the new gaffer has let him go to free up wages for other targets.
The new Steelmen manager said: "We're not renewing Alan's contract, he was struggling for the weekend with an injury anyway, so we sat down with him and told him we won't be keeping him on.
"It frees up some wages and we will look to strengthen other parts of the park."
McCall made the announcement as he looked forward to a mouth watering cup clash with First Division Dundee at Dens Park on Sunday.
The former Rangers and Scotland midfielder said he is looking forward to what will be a fiercely competitive encounter.
McCall said: "It's a challenge for us, we've not won in six games on the bounce but what excites me most is the training with the lads recently.
"The quality is very good and they are really up for it.
"We have to breathe confidence back into the players and get them back into the swing of winning games again.
"Sunday could be the ideal time for that but Dundee is always a tough place to go.
"I'm sure it will be freezing but it is a big park which suits the way we set up."
A mainstay of the successful Rangers side of the '90s, McCall won the Scottish Cup three times with the Gers but says those medals count for nothing when he takes charge of Well in the same competition.
He said: "Now I'm here I just want us to be in the hat for the next round. It won't be difficult to get the lads up for it and the when you go into cup ties you expect it to be tight and sometimes a little run of luck is what you need to make the difference."
As well as Gow, Well will be without 10 goal loanee Nick Blackman, who has returned to Blackburn Rovers and has been subject to speculation linking with a loan move to hook up with his old Steelmen boss Craig Brown at Aberdeen.
But McCall, who has spoken with Blackburn caretaker boss Stewart Kean and Blackman's agent, believes that Fir Park is the only destination for the 21-year-old if he is allowed on loan to the SPL again.
McCall said: "I spoke to Stewart Kean and Nick Blackman's agent a couple of times and first they have to come to an agreement over his new contract before anything can be done.
"After that it is down to them and I can only go on what I have been told and that is that, if he comes back up north, it would be to Motherwell."
The manager expects to make inroads into appointing an assistant next week and he will talk to Marc Fitpatrick about a new deal after Sunday's cup tie.
Midfielder Steve Jennings returns to the squad after serving a three match ban.