Stephen Craigan, Mr Motherwell
On the Well captain's testimonial day, Steelmen blogger Kris Jack pays tribute to a modern-day rock in the Fir Park foundations.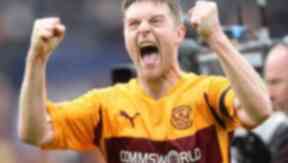 Stalwart. Mainstay. Bedrock. Foundation. Lynchpin.
All words used to describe the fundamental piece that holds everything together. In footballing context, those words are used for experienced veterans and inspirational gutbusters, who battle on for the greater good while others around may fall.
Tonight at Fir Park, the career of Motherwell's diehard captain Stephen Craigan, will be celebrated in his testimonial game.
Former club Partick Thistle are the opponents, and their short dash along the M8 should hopefully find a decent crowd joining in on thanking Craggs for his service to both clubs.
His early career at Well found Stephen as more of an auxiliary defender, behind the likes of Brian Martin, Chris McCart, Greg Denholm, Greg Strong, and even Tony Vaughan.
His 22 appearances in the mid to late 90s, at what was very much a transitional time for the club, were scattered around, thus leading to his move to The Jags in 2000.
121 appearances with one goal to his credit, Craggs became a solid starter in Maryhill, while managing to break through in to the Northern Ireland squad. A fans' favourite, Jags supporters were heavy hearted when he left them to rejoin Motherwell at the behest of Terry Butcher.
With a wealth of experience under his belt, Craigan's return to Fir Park found him as first name on the team sheet every week under Butcher.
His steady head in the core of the team, alongside other veterans Scott Leitch, Gordon Marshall and Jim Hamilton found him playing in one of the most enjoyable seasons Motherwell fans had had in a long time.
While it was not a stellar season for league positioning, the League Cup run of 2004-2005, with the dramatic highs of the Semi at Easter Road, the trip to Hampden for the final and Skippy Sunday, Craigan took part in some of the most memorable matches in modern Motherwell history.
The Malpas era came and went before Craigan started showing signs of how important he has become for the club. Mark McGhee's first season in charge found The Well at their attacking best, and while praise was heaped on Clarkson, Porter and McCormack, without the inspiration of Craigan, Leitch and Phil O'Donnell's experience to support them, Europe would have been a pipe dream.
That season, O'Donnell died, forging the bond between this group of players. Old heads were needed to console the young blood and Craigan played his part expertly in his dealings with the fans and the media.
He was now becoming Mr Motherwell both on and off the park, with his media work augmenting his defensive duties.
After McGhee and Leitch left, Stephen was put in temporary charge of the team while a full time manager was sought. Jim Gannon's arrival heralded what many of us thought would be the end of Craigan's time with us, as his youth-focused movement saw a perennial starter resigned to the bench.
Gannon's tenure was not long and when Brown and Knox came in, Craggs came back, more determined than ever to prove Gannon was wrong. Since then, Craigan's captaincy has never been in doubt.
Last season epitomised his time at the Well. For all the great times and defining moments of the 2010-2011 season, there was one heartbreaking moment that brought us all back to reality.
Our Scottish Cup run was exemplified by the desire of the crop of players involved to win, no time moreso than in the semi-final.
Craigan was colossal. From first to final whistle, St Johnstone didn't get a sniff. It may not have been the Hampden roar, but the noise in our section as Our Captain scored the opener, was not normal.
As a collective we knew that this was the most important goal of the season and possibly Craigan's career. His celebration immediately after the goal and at the final whistle had many in Claret and Amber welling up.
That was how much it meant, that was a captains performance, that was history being made.
His own goal in the final may have played a part in us not winning the cup, but that's not important. What is important is that we celebrate what he has given the club.
Not everyone is a Craigan fan, but his commitment to this wee club we call our own has been nothing short of fantastic. He has the club at heart, he knows how much Motherwell FC is loved by it's fans, and with every grimace and thump of his chest, he shows his love for us, the club and the game.
Sometimes he gives us heart in mouth moments. His hand-ball that wasn't a hand-ball in the final. His regular mistiming of clearing longballs where the ball bounces under his foot. His occasional forays over the halfway line. The feeling of when a ball is pinging around in our box that he's going to touch it over the line.
Indeed, his own goal scoring feats are partly what has given him cult status amongst Well fans. While not being able to get a proper stat on it, the five goals he has scored in his time at Fir Park versus ones he's put through his own net, surely finds him on negative strikes.
Other times he is sublime. Keeping Rooney in his back pocket for Northern Ireland versus England. Captaining Northern Ireland and becoming our most capped player. Scoring against Killie via a throw in after opening the East Stand gate, then being told not to do it again by the ref. Ripping it right out of Jim Gannon on Soccer AM.
Whether heart in mouth or heart on sleeve, Stephen Craigan is the captain we have needed for the last few years. When he takes to the bowling green turf this evening to savour the adulation of us in attendance, the appreciation should be evident for all to see.
Whether he plays a half for both teams is irrelevant, what matters is that he has a great night being applauded for what he has done for both in his career. Any own goals should be kept to the Thistle end though...
Stephen Craigan, I Salute You!