Rangers call for SPL split to be scrapped
Martin Bain, Rangers' chief executive, wants the Scottish Premier League to find another way to accommodate a 12-team league.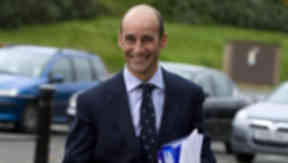 Rangers have called for the Scottish Premier League to end its controversial split after 33 matches. The Ibrox club are the latest of the league's members to protest about the division of post-split fixtures, which will see the champions-elect travel to Tannadice for a third time.
Walter Smith's team also face an unprecedented three consecutive away games when they play Hibernian, Dundee United and Celtic in quick succession as the season draws to a close.
Those two decisions have upset the club's chief executive Martin Bain, who has called the SPL's fixture board into question, following in the footsteps of Motherwell and St Mirren in protesting.
"I think the time has come for a more considered debate on a better structure that removes the split completely," said Bain in a statement on Rangers' official website.
"There are a number of anomalies that the post split fixtures have thrown up this season and this highlights the unsatisfactory situation that currently exists with a 12 team league and a split after 33 games and outside influences seem to becoming major factors in determining these.
"I think we all recognise that by its very nature the split throws up a number of problems but it seems clear that work has to be done to ensure a more equitable outcome. I am sure that there are a number of other clubs who are unhappy with the fixtures that have been determined after the split."
Rangers find themselves in an enviable position going into the final round of games, needing just two wins from their remaining six matches to secure a second successive league title.
Despite that, Bain is unhappy that the SPL appear to have taken that factor into consideration by handing Rangers a succession of away fixtures after when they are expected to have secured the championship.
"We are obviously pleased to be in a good position in the SPL going into the post-split fixtures," Bain continued. "However we have not won anything yet and we feel that the way the games have been scheduled places us at a competitive disadvantage.
"We find it very disappointing and surprising that we have been asked to play three consecutive away matches in the space of 10 days at such a crucial stage of the season.
"We know we have work to do in our efforts to win the championship but it is maybe just as well we have a good lead given the schedule we are faced with.
"It is certainly our understanding that clubs are never forced to play three away games in a row before the split so we don't know why we are being asked to do so now."