Rangers baffled by bank holiday Celtic game avoidance
The SPL's decision, on police advice, to not schedule the final Old Firm derby of the season for the May bank holiday weekend has been questioned by Rangers.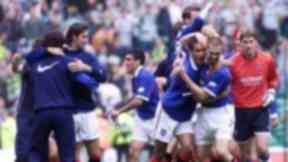 Martin Bain has raised questions over the decision of the Scottish Premier League to schedule the final Old Firm derby fixture of the season for midweek. Bain's Rangers will travel to play Celtic on Tuesday May 4, with that date seen as the only viable stage to hold the game.
The SPL were at pains to avoid a match in which Rangers would clinch the league championship by defeating their rivals, immediately ruling out the game being played in the first two rounds of fixtures on April 17 and 24.
On police advice, the prospect of playing on the bank holiday weekend of May 1 and 2 was also ruled out, a decision which has baffled Bain and the majority of supporters, who are confused as to why the looming bank holiday on the Monday after the round of fixtures should have any bearing.
"The SPL have said that the police did not want the final Old Firm game of the season to be decisive and therefore did not want it scheduled for fixture 34 or 35," said Bain.
"They have also said that they did not want the game on the weekend of May 1 and May 2 as this is a bank holiday weekend. But what difference does it make when the match is invariably played at 12.30pm?"
Iain Blair, the SPL's company secretary, explained on the league's website in the wake of the fixture list being announced for the final five matches that the Old Firm derby was only ever going to be played on the Tuesday because of the factors they were keen to avoid.
"It is well understood that we seek to minimise the likelihood of the Old Firm derby being a title decider," he said. "The police were keen to avoid the bank holiday on the weekend prior to Tuesday May 4 and were similarly keen to avoid the final day of the season. 
"Rounds 34 and 35 were deemed to be at high risk of being a title decider and were avoided for that reason."
A row has broken out over the division of the post-split fixtures, with Rangers the first to call for the split to be scrapped in favour of a more workable system.