Safety first or built to counter? The 4-6-0 formation explained
Craig Levein's planned tactics for Scotland's Euro 2012 game against the Czech Republic have caused dismay amongst fans. But could a formation with no strikers work?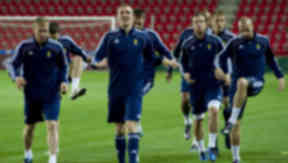 At first glance, Craig Levein's Scotland team selection to face the Czech Republic suggests one thing: he's playing with no strikers. Jamie Mackie, Graham Dorrans, James Morrison and Steven Naismith have all been named as the attacking options in the side but popular opinion suggests none of the four will be asked to go it alone up front.
QPR striker Mackie, making his international debut, does have a previous record of fulfilling a lone striker role at club level, leaving the possibility open that he has been preferred to Kenny Miller and will play furthest forward in a 4-5-1/4-2-3-1 formation. But if Levein has decided to omit a dedicated front man from his XI, what lies in store tactically in Prague?
The strikerless formation has been described by some as a 4-2-2-2, with two holding midfielders supporting a narrow front four. But that formation tends to at least have one typical centre forward, think of how Brazil shaped up at the 2010 World Cup, for example, with Luis Fabiano furthest forward with support from Robinho, with Kaka and Elano in behind bursting forward.
The more likely scenario however is the 4-6-0 and it is not an alien concept to modern football. Without attempting to draw comparisons in personnel, frankly that would be unrealistic, teams such as Villarreal, Real Madrid, Arsenal, Roma and, most effectively, Manchester United have all deployed the formation in recent times. France even won the World Cup in 1998 with a slight variation on the theme.
Sir Alex Ferguson frequently deployed Ryan Giggs, Cristiano Ronaldo, Wayne Rooney and Carlos Tevez as the advanced players during the 2007/08 season, with the efforts of the latter two contributing largely to Ronaldo's 42 goals that campaign. They also won the Champions League that season.
So how does it work? The obvious reaction is to assume Scotland will simply "park the bus", closing off every avenue for the Czechs to play through within their half. Without the ball, that's a fair assessment. Every player on the pitch will be called upon to work tirelessly to win the ball back, pressing the opposition, and then look to keep possession, or exploit a gap with a quick change of play.
The style of the advanced four also tends to be fluid, with no player likely to have a fixed position. The important factors for a player in the system is simply knowing where the ball is, where their nearest team-mate is, knowing where the gaps are around them and being aware of where the opposition players are.
The defensive midfielders will have two important roles, both in defence and attack. In defence, they will be looked upon to act as a screen to the central defenders, providing another wall for the Czech's attacking players to get through before they are down to the last line of Stephen McManus and David Weir.
In that sense, the formation is interchangeable. Without the ball, it effectively becomes a 4-2-4-0, or a 6-4-0, with the four defenders and the two defensive midfielders set up primarily to block and clear their lines.
It then becomes the job of the other four to close down space and stop play reaching the second or third stage. If one of the 'attacking' midfielders is bypassed, he will be instructed to get behind the ball again immediately.
In attack, they will have two purposes. Fletcher and Caldwell's aim will be to get the ball and then release it, preferably to a wide area. Both players may then step back into defence, allowing Whittaker and Hutton to get forward.
But what of the formation in an attacking sense? Scotland's priority in Prague will be to not concede. But Levein has named four players going forward who all have strong attacking merits. The manager has not named 10 defensive minded players with a view to sitting the game out for 90 minutes.
Naming the particular four he has is an indication that he knows the Czechs are susceptible to being caught out by the pace of the ball, and those involved in counter-attacking play, when they have committed bodies forward.
Hutton and Whittaker will also become key attacking outlets. A great deal of Scotland's possession will go through them and they will be charged with getting forward where possible when the team is in possession. In a congested midfield, they can offer relief to the play and also stretch the Czechs, opening gaps in the middle for their four advanced team-mates.
The formation also offers a plan B if Scotland fail to play a passing game, or if they are finding themselves overrun in return by a Czech side who press the ball higher up the pitch. In that sense, Mackie is capable of pushing ahead and holding up ball, offering relief to the other players by providing an outlet away from the congestion, as many had expected formation to be in the first place with Miller at the apex.
The formation almost seems foolproof then, with a wide range of scenarios catered for. But where Scotland could fall down is in the intensity of having to maintain efforts across the 90 minutes.
As former national manager Andy Roxburgh pointed out in an interview with Jonathan Wilson in 2008 in the Observer, each midfield player will be called upon to fulfil every possible role of a player in that position, with one former Chelsea and Portugal player held up as the perfect example of what each player has to aspire to achieve.
"The six players in midfield all could rotate, attack and defend," Roxburgh said. "But you'd need to have six Decos in midfield. He doesn't just attack, he runs, tackles and covers all over the pitch.
"Deco is a classic example of a universal player, something he combines with high levels of physical fitness."
If players tire, Levein's bench will come into play. And if the game is still poised at 0-0, even 1-0 down, the tactics are unlikely to switch too drastically, other than perhaps to push a player on to collect the ball further up the pitch. In that regard, Kenny Miller may still have a role to play. Charlie Adam and Barry Robson are two other obvious contenders to step in if there are enforced changes.
Scotland may just have the players to pull it off. If it earns another point towards clinching a play-off spot for Euro 2012, then Levein will be due credit. Many supporters' fears lie in that an untried system with some untried players is going to be used in such a vital game. But if it gets Scotland over the line, the manager will have produced a masterstroke.