Rangers v Manchester United tactical preview
Andrew Gibney picks out where Walter Smith succeeded tactically in their first game against Sir Alex Ferguson and what Rangers will have to watch out for on Wednesday night.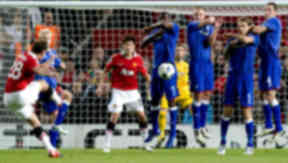 Being without Maurice Edu, Madjid Bougherra and Sasa Papac will alter Walter Smith's normal European plans against Manchester United on Wednesday night, with a move away from the famed 5-4-1 system that worked so well at Old Trafford highly likely.
Instead, the Gers coach may look at the option of bringing in the likes of Kyle Lafferty and Vladimir Weiss and field a more attack minded Rangers side. If Papac does miss out, the manager would likely be forced to ditch his five man defence and pack the midfield, with the 4-1-4-1 that faced Kilmarnock being his Plan B.
Although the formation may change, it would be very surprising for Smith to deviate from the game plan that worked so well in the draws against United and Valencia. Against the English side in particular, the strategy worked to perfection, stifling United's attacking play.
Matched up three versus two against Rooney and Hernandez and two against one on each flank, United found it extremely difficult to penetrate in behind Rangers' defence. If the hosts only have four defenders on this occasion, it puts much more emphasis on the midfield to cover back and protect against United's forward line.
One area in which Rangers performed exceedingly well first time around was in their hard work in closing United down as high up the pitch as possible. Early in the match they forced Antonio Valencia (yellow) deep into his own half, with Broadfoot and Naismith (red) putting pressure on the ball and Miller and McCulloch (blue) cutting off the easy pass.
This forced Valencia to take a chance and dribble past the Rangers duo, which he was successful with on that occasion. But any slip up would have left Rangers in on United's goal and it is gambling on possibly profiting from situations like this, and mount counter attacks, which should play a large part in their strategy.
Equally as impressive was the work ethic of the whole team to get back in numbers and rebuild the defensive walls in front of McGregor whenever possession was lost. In the previous example, it took only 20 seconds after Valencia had escaped his Rangers markers for every player, except for Miller, to be back behind the ball.
When it became apparent this was the main thrust of Rangers' tactics at Old Trafford, questions were immediately raised over whether they could maintain the same effort over the full course of the match. But, to their credit, they showed the same fitness and work rate throughout.
There is no doubt that effort will need to be replicated in its entirety on Wednesday night for Rangers to get anything from the match. Smith will expect the same sort of performance from his men, only this time they will be urged on to the death by a vocal home support, which could give them a psychological boost if fatigue sets in.
But Rangers cannot afford to simply let Manchester United come at them for 90 minutes. Any opportunity to take the pressure of the defence must be utilised better than it was at Old Trafford, where some of Rangers passing was sloppy and lacked direction. On too many occasions a spectacular pass was tried, instead of choosing simple option.
Rangers' players need to be smart in their movement, giving the man in possession options so they can keep the ball. Too often when they had chance to attack the United defence last time there was a very cautious approach.
In the above diagram, with Bougherra (yellow) advancing forward on the ball, he is faced with very limited options. Steven Whittaker (red) could have opened up the space by moving away from Steven Davis (blue) and making a forward run down the line.
The short pass to Naismith (green) is not an option, but if Whittaker makes the run it pulls Fabio (pink) away and gives Naismith a channel to run into and provides Bougherra with an extra option. Without that movement, Bougherra was forced to play a short pass to Davis, who then found Whittaker, by which time Fabio has closed up on the full back and Rangers had to retreat.
It is often necessary for players to make a run knowing they will not receive the ball. The intelligence in doing so is knowing it will in turn create space for team-mates. In defence, Rangers have been utterly selfless - sacrificing themselves for team orders. If they could use this attitude going forward, they could find a little more success.
As impressive as the defensive performance was from Rangers first time around, there is no escaping the fact Manchester United put in an equally poor performance. Rangers willingly left acres of space in the channels, inviting United to get wide and send crosses into the box, knowing their tremendous height advantage in open play would ensure any cross played in the box was easily dealt with.
Rangers played very narrow and the game was screaming out for a player like Nani or Patrice Evra to bomb down the left and get in behind the defence, making it possible to play a more direct cross that could lead to a dangerous situation with so many bodies in the box.
On the left flank, United had Fabio and Park Ji-Sung who both predominately right footed players. Any time they did manage to make it deep into Rangers' half, they were too eager to cut back onto their favoured foot and play to high cross into the box.
Similarly on the right, United did have natural width with Valencia. But the unwillingness of Wes Brown to overlap the winger made it very easy for Broadfoot and Naismith to double up on the Ecuadorian and very rarely did he reach the byline.
Late in the second half in September, Manchester United were dealt an awful blow when Valencia suffered a season-ending injury. Ryan Giggs (red) came on in his place, playing in his favourite spot wide on the left, But while the switch demonstrated Ferguson's strength in depth, Smith matched this by having an adequate plan already in place to counter the different dimension the Welshman would bring to the play.
Rangers accounted for Giggs' introduction by spreading out over the width of the pitch, not giving the veteran winger space to get in behind and forcing him to come inside. Moving away from the narrow defence that protected them in the first half, the Scots showed they have the versatility to adapt to changing circumstances.
To get anything at Ibrox, Manchester United will need to do a much better job of moving the ball into advanced areas quicker. They must not allow Rangers time to build up their defences. Playing natural wide players would help spread the Rangers back line and would allow for more space in the centre for Rooney and the midfield to get in behind the defence.
With Darren Fletcher out, Paul Scholes and Michael Carrick will be favourites to play on Wednesday and both have shown the ability to shoot from distance. Darron Gibson – who did not train on Tuesday – was United's most dangerous player during the first meeting in that regard, with Rangers dropping so deep on four occasions he found space to unleashed dangerous shots, a few of which had Allan McGregor scrambling.
If the Rangers defence turn out to be as stubborn, a shot from distance could be a way for United to break down the door.
As for Rangers' hopes of winning, the home fans will expect their team to provide a more attacking threat, as they did when Valencia came to town. Anything the home side create will depend firmly on the performance of Kenny Miller, not only for the goal threat the SPL's top scorer brings, but also his work rate and movement which will help his team make chances.
The second half at Old Trafford saw Miller doing a much better job of running the flanks, getting in between centre-back and full-back and giving the midfield a target to hit and advance them up the field.
Miller will need to be at his best to work the United back four and give the midfield an immediate outlet when breaking on the counter. If he is left to chase long high ball, it could be a long night for the lone front man.
Whatever the case, it is going to be another tough Champions League night for Smith and his men. However, they have shown determination and hard work can provide a strong base. If you throw in a bit of luck and the encouragement of a noisy home support, there is nothing to say it can't be another memorable European night for Rangers and the Ibrox faithful. 
STV will be hosting its own bespoke coverage of all the action from Ibrox, and more, when Rangers take on Manchester United on Wednesday, November 24. The coverage kicks off online at 5pm when STV's Chris Harvey will be joined by special guests to answer questions asked live by stv.tv viewers via our live chat, Twitter and Facebook followed by video extras and the full match streamed live from Ibrox.