Video: Kenny Miller is mobbed on arrival in Turkey
The Rangers striker is on the verge of completing a transfer to Bursaspor.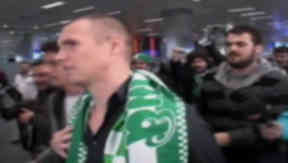 Kenny Miller has touched down in Turkey to a hero's welcome, as he moves closer to completing his switch to Bursaspor.
The Rangers striker, who has already agreed a deal in principle with the reigning Turkish champions, flew out of Glasgow on Wednesday afternoon, going via London and Istanbul before arriving in Bursa.
Bursaspor and Rangers are still in negotiations over a transfer fee for the 23-goal striker, although STV understands both are close to a settlement which will allow Miller to move in the coming days.
An offer from Birmingham City, which would have risen to approximately £1.1 million, appeared for a short spell to be Miller's preferred option, after interest from Fiorentina cooled.
But Bursaspor, who Miller scored against in the last group stage match of this season's Champions League, stepped in to offer the Scotland international a two-and-a-half year deal which will reportedly see him earn £50,000 a week.
Havign missed out on Miller, Blues manager Alex McLeish commented on Thursday that he believed the 31-year-old had a backup plan already in place if things didn't work out in Turkey.
"We couldn't match the offer Bursa made and tax rules in Turkey are different to England's," McLeish told the Daily Record. "Kenny stood to make a lot more money by going there.
"Good luck to him, I hope it works out well. I hope he finds fulfilment in Turkey. He may not get it playing wise but he certainly has been given a fabulous contract.
"If it doesn't work out on the pitch, Kenny might think he'll be back in a year to finish his career in England in the Championship. He probably has that game plan already.
"Is it a gamble to choose Turkey over the Premiership? I'm not sure. He has guaranteed that money for at least a year so good luck to him.
"I respect Kenny and I wouldn't criticise him. He has made his choice and I respect it."
KENNY MILLER IN TURKEY