Full video interview: Peter Lovenkrands talks to Friday Night Football
The Danish forward talks about playing in the Old Firm cauldron and getting Alan Thompson sent off.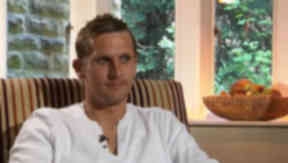 Former Rangers star Peter Lovenkrands has spoke to STV Sports Centre about how he believes Rangers can seal the SPL title by beating Celtic in Sunday's crunch encounter at Ibrox - if they can keep their heads screwed on.
Now at English Premiership side Newcastle United, the pacy Danish forward scored several memorable goals against Celtic during his six year stint in Glasgow and says he misses the 'intensity' of the Old Firm fixtures.
But he says the goals count for nothing if you can't hold your head in the red-hot atmosphere of an Old Firm derby.
Lovenkrands said: "After the game you know how big it is. The whole town was rocking. It's a massive game.
"Rangers fans are just so loud and behind you. When they can feel a goal is coming they put pressure on you and i think that gets to the other team."
One memorable encounter in November 2004 seen Lovenkrands involved in a heated altercation with former Celtic player and current assistant manager Alan Thompson. Rangers went on to win the game 2-0, and Celtic fans were incensed with the Dane's apparent play-acting.
Lovenkrands admits that he did attempt to get Thompson sent off on that fateful afternoon but added that the pair have since patched things up:
"I got (Alan) Thomspon sent off, but we have had some banter at Newcastle about it when he was here. Looking back it was so intense. At the time we needed to beat them, and I spotted an opportunity to get us in driving seat. It worked out good for us in the end."
With just one point separating the two sides going into the game, both teams have the opportunity to seize advantage in the race for the SPL title. Lovenkrands admitted to STV Sports Centre that the significance of Sunday's game shouldn't be underestimated.
"The league is so tight; if Rangers win they will go on to win the league. Celtic could also come away with a draw.
"A lot of things can happen, and there are a lot of dodgy places to go and see. But the ones who keep their heads will win the game."