Kenny Miller 'wants to return to the UK'
The Bursaspor striker has indicated to club officials he wants to leave Turkey for family reasons.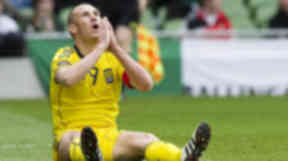 Kenny Miller has told Bursaspor officials he wants to return to the UK for family reasons.
The striker moved to Bursa from Rangers in January but Bursa's director of transfers, Erkan Kamat, admitted this week that Miller was struggling to adapt to life in Turkey.
Kamat is due to meet with Miller over his future this week but has already spoken with his agent, Dave Baldwin, who has indicated the 31-year-old wants to move home.
"I have taken a phone call from Kenny's agent," Kamat told STV. "Kenny wants to be with his family and so wants to continue his football life in the United Kingdom, either in England or Scotland.
"Maybe something will happen. I was due to meet Kenny on Wednesday but I will now not meet him until tomorrow [Friday]."
Speaking on Tuesday, Kamat insisted it would take "serious money" for a club to prise Miller away from Bursaspor, with the player still having two years left to run on a lucrative contract.
The Green Crocodiles' director did however open the door to his possible departure and Kamat again says the club would consider an approach, but says none have been forthcoming.
"As I said before, if the conditions are right, why not, maybe a transfer can be done," he said. "But at this stage, no-one has spoken. No club has made an approach."
Rangers boss Ally McCoist has already expressed an interest in bringing Miller back to Ibrox for a third spell, as he looks to bolster his squad ahead of the start of the new Scottish Premier League season.
"Kenny has never been out of my thoughts," McCoist said on Tuesday. "He is a player who did very well for us.
"He ticks all the boxes in terms of what we're looking for, but we're looking at a few who tick all the boxes. I wouldn't rule anyone out and I certainly wouldn't rule Kenny Miller out either.
"I haven't spoken to him to any degree or great length about it because he is obviously still under contract at Bursaspor.
"But Kenny is someone I have a lot of respect for, he's done well. He always gave us everything he's got and was a good player for the club."
Miller turned down a move to Birmingham City to move to Turkey and McCoist was mindful that the striker may look to England first before considering a return to Glasgow.
"I'm sure there are clubs in England interested in him and he'd probably get nearer the money he'd be looking for down there," he said.
"I've been speaking to Kenny about other things, we spoke to him last week to see how he's getting on and what he's been up to."