Bursaspor reject Rangers bid for Kenny Miller and accept Cardiff offer
The Turkish club claim the striker is on his way to Cardiff City for a medical, having accepted a one million euro offer.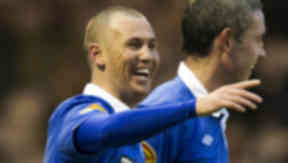 **Bursaspor have **rejected Rangers' "ridiculously low" offer for Kenny Miller and claim the Scotland international is on his way to Cardiff City for a medical.****
A Rangers source has confirmed to STV the club have now pulled out of the running for the striker and are unwilling to increase an offer they viewed as fair.
The striker was subject of a 400,000 euro (£352,000) bid from the Glasgow club on Tuesday night, the same amount his current employers paid to take him to Turkey in January.
That offer has been dismissed out of hand by Bursaspor, who say they want a fee of one million euro (£888,000) for Miller.
Bursaspor claim Cardiff City have matched their valuation and, according to their director of transfers, Erkan Kamat, Miller will fly to the UK today and head for the Welsh capital.
"The policy of Rangers is not good," Kamat told STV. "I don't like it. It is a ridiculously low offer.
"As far as we are concerned, Kenny Miller has been sold to Cardiff City. He is going to be their player and he is not going to Rangers."
Bursaspor, who have reluctantly agreed to allow Miller to return to the UK for family reasons, are keen to recoup more than they paid for the striker in January, in order to bring in a replacement.
"We are in a very bad position now," said Kamat. "We have a Europa League match next week, Kenny is going and we need another striker.
"We want one million euro to buy another player and we told Kenny's agent this. I told also Andrew Dickson [Rangers' head of football administration] this."
IN DETAIL