Carlos Bocanegra admits he couldn't say no to Rangers
New defender admits the chance to end his European trophy drought with Ally McCoist's men was just too good to turn down.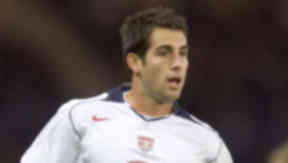 New Rangers signing Carlos Bocanegra says he just couldn't turn down the chance to join Ally McCoist's American revolution.
The defender, signed from St Etienne, joins international team-mates Mauric Edu and Alejandro Bedoya at the Scottish champions and is likely to feature against Maribor in tonight's Europa League play-off first leg.
The Californian-born man flew straight to Slovenian after penning a three-year deal.
Speaking to Rangers' official website, Bocanegra said: "I was very excited when I heard there was interest from Rangers.
"I was really interested, obviously, and the move came as a bit of surprise because I had a good situation in France. I was happy there and not looking to leave.
"Rangers have lots of history though and you can't say no to them. It's just fantastic to be here.
"The fact the club has won a lot of trophies over the years is something I was really interested in.
"I have been in Europe for eight or nine years now and I haven't won any silverware on this continent yet so I am hoping to change that.
"The possibility of coming to Rangers and looking for titles and trophies is awesome. You don't get a chance to do that kind of thing too much in your career.
"I came close to winning the cup in France a couple of years ago and it hurt when we didn't so I'm coming here hungry and keen to contribute to the team so that we're successful."
Bocanegra is the latest US international to ply his trade at Ibrox alongside Maurice Edu and fellow new recruit Alejandro Bedoya.
Past States stars such as DaMarcus Beasley and Claudio Reyna have worked with Gers too and the versatile stopper turned to the latter for advice as he prepared to make his move.
Bocanegra added: "DaMarcus was here along with Claudio and when we were away on international duty last week, I spoke him at length about Rangers.
"When he was at the club, he helped make it a bit more popular in America and he had nothing but great things to say when we spoke.
"He told me that if I had a chance to come here, I should do it because it would be a great experience for me. His time here is something he cherishes and that's nice to hear.
"Rangers is a club which is pretty popular in America already and now, with Mo being here and doing well as well as Ale and I arriving, hopefully we can keep that feeling growing.
"I'm excited to be here and to be part of the great tradition that is this club. It is perceived back home to be a massive club and that's because it is.
"Everyone in Europe and in America who knows about football knows who Rangers are and this is a great opportunity for me."
IN DETAIL