Rangers striker Jelavic: we won't be caught in the SPL
Nikica Jelavic says Rangers won't be caught in the title race.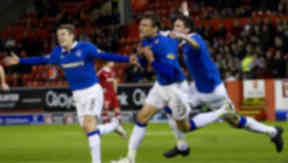 Rangers striker Nikica Jelavic believes Celtic have no chance of catching his side in the Scottish Premier League title chase.
The Ibrox club currently hold a 12 point lead over their rivals, who still have a game in hand, and Jelavic thinks that gap is enough to give Rangers a fourth consecutive league title.
The Croatian has already bagged nine SPL  goals to help his side stay at the top of the table and is happy with his individual performances and that of the club so far.
"I am delighted," he said. "I am playing well and so are the team. We seem to score in every game.
"Of course, we need to stay in first place but the 12-point lead we have over Celtic should be enough to keep us there."
Jelavic is currently with his national side preparing for their Euro 2012 qualifying playoff against Turkey.
While likely to start as a substitute in Istanbul on Friday, he feels his domestic form is good enough to earn him a place in Croatia's starting line-up.
"Of course I expect a place in the line-up because I am in good shape and have scored a few recently," he said.
"But it's not me who decides, it's the manager and whatever he says I will listen to and accept.
"We know it will be difficult but we can't miss out on another tournament."
IN DETAIL