Rangers docked ten points by Scottish Premier League
The Ibrox club have formally entered administration, triggering a points deduction.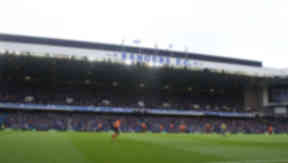 Rangers have been deducted ten points by the Scottish Premier League after an administrator was appointed at the Court of Session.
The club will also be prevented from registering any new players until they exit administration, except in the case where an emergency goalkeeper is required.
Court proceedings in Edinburgh on Tuesday resulted in the appointment of Duff and Phelps as administrator.
Rangers' ten point deduction applies immediately and will see their tally reduced to 51, leaving them in second spot.
Ally McCoist's side would be 14 points adrift of Celtic and nine points ahead of third placed Motherwell, who have a game in hand. Rangers have 12 SPL fixtures left to fulfil this season.
If the club are still in administration at the start of the 2012/13 season, they will start the campaign on minus ten points.
In a statement, the league's governing body said: "As Rangers FC is subject to an Insolvency Event, a ten point deduction has been applied to its total points in the league championship for the current season.
"In addition, Rangers FC is subject to restrictions on the registration of players with the SPL whilst in administration.
"We are seeking an early meeting with the administrators." 
SPL rules forbid the club from registering any new players from this point forward. Rangers, if required, could appeal to the league to appoint an emergency goalkeeper, if they can prove one is required due to injury or illness.
The event could also have implications for Rangers' UEFA club licence, which is required to compete in European football next season.
Administration itself would not automatically mean a licence application would be rejected but would make it difficult to satisfy some of the criteria required.
Even if the club exits administration before the licence deadline of March 31 Rangers may still fail to receive approval to compete in the Europa League or Champions League next season.
IN DETAIL