Gordon Smith: 'I wasn't allowed to do my job at Rangers'
The outgoing director of football says he had little or no say over key aspects of his job.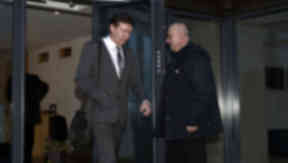 Outgoing Rangers director of football Gordon Smith says he was prevented from doing his job under owner Craig Whyte.
Smith has been made redundant by the club's administrators, Duff and Phelps, along with chief operating officer Ali Russell. Both will leave their posts at the end of February.
The former chief executive of the Scottish Football Association was appointed by Whyte in June last year. Smith though says he had little or no say in recruitment at the club during his tenure.
"I would make the point that I was very frustrated in my job as I was unable to fulfil the job specification which was originally outlined for me," Smith said in a statement.
"This was to control the major aspects of the football department outwith the first team operations.
"These were to include recruitment, scouting, transfer negotiations and youth development.
"However, I wasn't in control of any of these activities despite constantly making it clear to Craig Whyte that this was to be my remit.
"I outlined my medium to long term strategies for the Club on numerous occasions to no avail.
"There's no point in being a Director of Football unless you can control these areas, so, in that respect I'm totally comfortable with being made redundant at this time."
Smith also believes his position with the club became "undermined" because of recent revelations over Whyte.
"I admit that under the current circumstances it has not come as a major surprise to me," he said.
"I was brought in by Craig Whyte but because his control and reputation has been damaged by recent disclosures, I feel my own position has been undermined by association.
"It was a great thrill to be offered the Director of Football role at Rangers. As a fan it was a wonderful experience to play such a big part in our treble winning season of 1977/78.
"However like my transfer in 1980 my leaving at this time comes as a tremendous wrench.
"The main thing for me is that Rangers survives and continues to operate as a great football club and I offer my full support going forward to ensure this happens."
READ MORE