Rangers' administrators still seeking deal with players to save jobs
Discussions will resume on Wednesday morning with a view to an agreement being reached over structured pay cuts.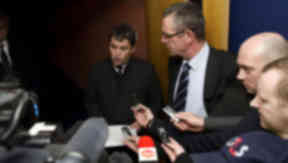 Rangers' players and staff are again uncertain over their futures on Wednesday after negotiations to save jobs failed to reach an agreement.
An deal in principle had been reached with the first team squad on Tuesday afternoon, which would have seen tiered pay cuts implemented for the next three months.
The proposal would see a 75% cut for high earners, 50% for mid earners and 25% for low earners over the next three months. The situation would then be re-evaluated at the end of May.
Following a consensus being reached, a number of players' agents descended upon the Murray Park training facility.
It is understood many were seeking guarantees that reasonable transfer bids would be considered from other clubs when the summer transfer window opens.
In a statement late on Tuesday night, Rangers' co-administrator David Whitehouse released a statement saying no conclusion had been reached, but remained optimistic a deal could be struck in the morning.
"Today [Tuesday] has been a very frustrating day," said Whitehouse.
"Earlier in the day, we believed we had agreed in principle a basis of cost-cutting measures with the players accepting substantial pay cuts and we are very grateful for their efforts in reaching that point.
"Sadly this evening we have been unable to reach agreement on the personal conditions sought by the advisors to the players in respect of those wage cuts.
"There is still some hope these issues can be resolved first thing in the morning but it is extremely disappointing we haven't been able to get there tonight."
If a deal can not be agreed upon, it is expected the administrators will start cutting jobs at the club on Wednesday.
Gregg Wylde and Mervan Celik agreed to leave voluntarily on Tuesday, with Wylde stating his decision was an effort to save the jobs of others.