Francisco Sandaza to turn down 'generous' St Johnstone deal
The Spanish striker is courting interest from Celtic and Rangers, as well as a number of clubs outside of Scotland.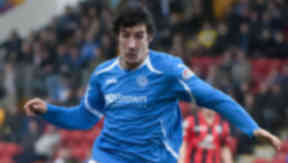 Francisco Sandaza looks likely to turn down the offer of a new contract with St Johnstone as interest from other clubs in Scotland and abroad grows.
The striker has netted 12 times in 17 appearances for the Perth club this season, having signed a one-year deal following his release by Brighton and Hove Albion in the summer.
Sandaza's form prompted the Saints to try and tie him down on a longer deal but the Spaniard, who is free to talk to interested clubs, sees his future elsewhere.
"His contract finishes in May and although St Johnstone have made a very, very generous offer for him to continue at the club, it's not really what we're looking for," his agent told STV.
"We see Fran's long-term option away [from St Johnstone]. Their offer is very generous but I don't think, understandably, they can go much further than that.
"When I spoke to Derek McInnes [former St Johnstone manager] in the summer, the reason we signed a one-year contract was because Fran had a disappointing year at Brighton with both injuries and lack of opportunities.
"So we needed a club where we were guaranteed playing time. Derek guaranteed that as best as he possibly can and it's worked very well indeed.
"But our intention is to move on at the end of the season to hopefully bigger and better things."
Interest is said to be high in the 27-year-old, who has also played in Spain and had a previous spell with Dundee United.
Sandaza could yet remain in Scotland, with both Celtic and Rangers having expressed an interest in his services.
"I've had conversations with a couple of Championship clubs, even an English Premier League club without any definite offers being made for the player," the player's agent continued.
"There's also been some interest from bigger clubs in Scotland and although I'm not going to name them, everyone will know which clubs we're talking about.
"I'm trying to speak to both clubs. But I've had closer contact in particular and I understand there's greater interest from one of the two clubs in particular.
"But I've had no official confirmation from either of the clubs and it's all really at the moment, as far as we're concerned, pure speculation."
"I have interest from Spanish clubs as well, with [clubs in] other European leagues following him seriously. I've also had interest from a couple of MLS teams.
"The situation may well be, at the end of the day, he's got a contract until the end of May with St Johnstone. It may be a case of letting that contract run out and seeing what options we have for next season.
"Understandably, St Johnstone are not going to be asking peanuts for the player. They want reasonable compensation."