Gilmour unhappy at St Mirren fixture 'disgrace'
St Mirren have to go to Falkirk for the third time this season as they fight relegation, a decision that has upset their chairman.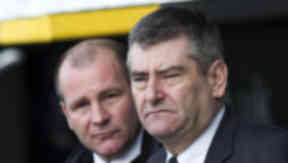 St Mirren chairman Stewart Gilmour is angry at the Scottish Premier League's decision to schedule a third trip for his team to face relegation rivals Falkirk this season. The post-split fixture list was announced on Saturday and five teams will enjoy home advantage in games.
The Buddies lost 2-1 at Falkirk on Saturday, lifting the Bairns level on points with the Paisley club with five games left to play.
Gilmour had expected a fair weighting with a home game against Steven Pressley's team but the SPL elected instead to put them at a disadvantage by sending them east once again.
"We are in a fight for SPL survival along with Kilmarnock and Falkirk and it seems grossly unfair that we have been asked to go and visit one of them for a third time this season," Gilmour told St Mirren's official website.
"Surely, the three obvious contenders for relegation should have played each other on equal terms?
"I feel it is a disgrace that this decision has been taken by the SPL and it would appear to put us at a disadvantage in the relegation battle.
"This only goes to highlight one of the deficiencies of having a 12-team league."
SPL secretary Iain Blair defended the decision prior to Gilmour's outburst and explained that the uneven fixture list came from Aberdeen's failure to finish in the top six.
"The fixtures for the whole season are determined based on where the clubs finished in the league in the previous campaign," Blair explained on the SPL website.
"If Aberdeen had finished in the top six, at the expense of Motherwell, like they did last season then we would have had perfect balance of all clubs playing 19 games at home, 19 away, playing each of the teams in their half of the split twice at home and twice away.
"The clubs have indicated that the highest priority is to try and ensure 19 home and 19 away matches for each club. Unfortunately, to ensure this, some clubs will need to 'gain' one home game and some will need to 'lose' one to ensure balance."