Trump plans toughest hole in the world in Aberdeenshire
The American billionaire intends to set golfers the hardest of tests at his new course in Aberdeenshire.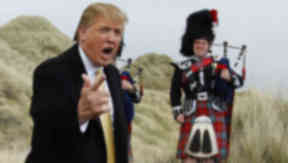 Donald Trump never does anything by halves. And the American billionaire, who is involved in creating a controversial new golf course development in Aberdeenshire, has revealed details of what could be the toughest hole in world golf.
The 14th at Trump's £750m resort will test the mettle of any competitor and probably scare the wits out of most part-time drivers. It features intimdating sand dunes as part of a daunting lay-out, which will be the only fairway at the par 4 hole, where golfers who hook or slice their drives might as well tee off again immediately.
Those players who find the fairway will then have to navigate their path through another  200 yards of the Great Dunes of Scotland before finding the green, which is nestled behind the peaks in the horizon. On a decent day, this will be a tough enough challenge. 
But on a morning of squally showers and ferocious winds - such as enveloped Aberdeen on Wednesday - it will be almost unplayable for all but the nost courageous, straight-hitting golfers.
The constriction of Trump's course, which is continuing despite objections from environmentalists, is being overseen by Esie O'Mahoney, who has worked on some of the sport's most famous sites, including Muirfield and Royal Birkdale.
And he is confident the 14th will become one of the most iconic holes in the golfing firmament and that players who walk on to the tee will be confronted by: "One of the most daunting golf shots in the world."
It is only one part of a lay-out which Trump believes will be capable of hosting Open Championships in the future. "I'm extremely pleased with progress on the site," he told the Press & Journal. "The land is so magnificent that every hole created will be spectacular and I'm looking forward to walking the course next month."
For O'Mahoney, the test of designing a golfing venue around the rugged Aberdeenshire coastline is both a challenge and a privilege. "there is pressure, but this is a once-in-a-lifetime opportunity," he said,
"The site is there, the design is there, so there is no reason why this should not become the best course in the world.The land is breathtaking and you couldn't create a site like this, with all the money in the world, without it." 
Trump and hyperbole tend to go together hand in hand. But there is little doubt that, whatever the objections to his proposals, Trump is in the process of orchestrating something special.