Willie Limond: I'm two fights away from new shot at world title
The 36-year-old will fight an unnamed opponent in Glasgow next year.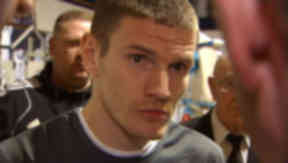 Willie Limond says he's two fights away from a shot at a world title and insists he's as fit now as he
was over a decade ago.
The British and Commenwealth light welterweight champion, whose last fight was a year ago, will contest the vacant silver title in Glasgow next year, against as yet an unnamed opponent.
If he wins this and successfully defends the crown, the 36-year-old has been promised a world title fight by ring legend Erik Morales.
Limond told STV: "I went to Dr Niall MacFarlane at Glasgow University, who has been doing my fitness tests for the last ten years.
"He's showed me that I've not faltered once. I'm still doing the same now as I was when I was 26.
"We go in once a month, do our tests and it is still showing that I can still do what I was doing ten years ago."
Trainer Billy Nelson said: "He's been there, seen it, worn the t-shirt. He's done it all before and knows what he's got to do and what his body will allow him to do.
"What he'll always be able to do is fight 12 rounds."