Family affair for Scotland's curling stars at European Championships
The Muirheads and Smiths will help make up Team Scotland in Denmark.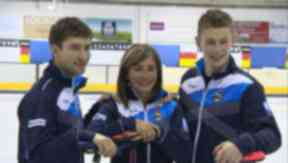 It's set to be a family affair for Team Scotland's curling stars as Eve Muirhead is joined by her two brothers for the European Championships in Denmark.
The tournament gets under-way on Friday, 20 November with Scotland's men's and women's teams taking part in the A Division.
The 2013 World Champion Muirhead will play alongside her brothers Glen and Thomas and they're not the only siblings to be donning the Scottish colours together.
Brothers Kyle and Cameron Smith will also be teaming up for the first time at senior level after being crowned world junior champions two years ago.
"It's not often you get to play alongside family members," Eve told STV Sport. "Poor Dad has to stay at home and feed the sheep and cows while Mum is coming out to support.
"There's going to be lots of Muirheads out here but it's going to be really special for me to play alongside my brothers."
Glen added; "Representing Team Scotland at any stage in your career is a special moment, especially when you can go out and play alongside your brother and sister. We can all pull together and cheer for Team Scotland."
The stakes are high as the European Championships double as a qualifying competition for next April's world championships.
The women's side will be looking to better last year's success of winning bronze in Switzerland.