Eilish McColgan determined to make Rio Olympics despite funding cut
The middle-distance runner has missed the entire 2015 season after injuring her ankle.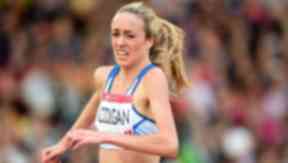 Scottish middle-distance runner Eilish McColgan is determined to make next summer's Olympics after her funding was cut.
The Dundonian athlete was not included in British Athletics' World Class Performance Programme for 2015/16 after a difficult year.
McColgan - the daughter of former athletics star Liz and athlete Peter - has yet to compete in 2015 after suffering a broken ankle.
And now she will have to make it to Rio next summer off her own back. But McColgan remains determined to achieve her goal of competing at the Olympics in Brazil.
"It's very difficult to accept less than a year before the Olympic Games," she said, "especially after an injury when you need that bit of a helpline, you need that support.
"So to have that taken from me, it's difficult, but I'm so determined that I will be there.
"It's just about me now, and focussing on how I can get over this injury and how I can get back to full fitness."