Eve Muirhead opens National Curling Academy in Stirling
The £3.15m centre will ensure Scotland's athletes have access to high-quality ice.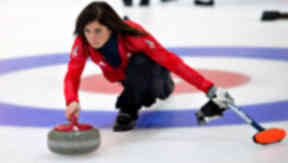 Scotland's first curling academy has been officially opened by Eve Muirhead to help build on recent Olympic success.
The £3.15m centre in Stirling will ensure Team Scotland, Team GB and ParalympicsGB athletes and community players have year-round access to high-quality ice.
In 2014, the British men's team won a silver medal and the women, led by Muirhead, took bronze in the Sochi Winter Olympics.
Rhona Martin led Team GB to a historic gold 12 years ago.
All athletes in the successful teams were Scottish and it is hoped a dedicated centre will help the sport to grow across the country.
Eve Muirhead, who will again lead the women's 2018 team in PyeongChang, believes the new centre gives the British Curling programme an edge over rival nations.
She said: "I am really impressed with the new academy and it has made our lives easier, and I know it has made the coaches' lives easier as well.
"Video will be available so that you can analyse your game right down to the tiniest margins - if anyone has a facility like that I don't know what makes it better and I can't see anyone beating this.
"It's fantastic turning up to training knowing that you have this facility on your doorstep and it has made a big difference to us already, and I know it will right up to the Olympics and for the future of curling."
The National Curling Academy was awarded more than £1.4m from sportscotland and £1.7m from Stirling Council.
Sportscotland performance director Mike Whittingham said: "We're delighted that sportscotland and Stirling Council's investment partnership has resulted in a world-class facility and home for curling in Scotland.
"The sport now has a terrific opportunity to attract new grassroots curlers while, simultaneously, a dedicated hub for our performance athletes can help them continue to achieve excellent results on the world stage.
"The technology in the National Curling Academy is cutting-edge and a welcome addition to our Olympic and Paralympic training programmes, and investment from our National Lottery stream and Stirling Council has made this happen."