Stars hope to cash in on Dundee's planned new stadium
The ice hockey club hope to harness potential if new neighbours move in.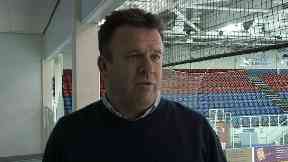 Dundee Stars co-owner Steve Ward believes Dundee Football Club's plans for a new stadium could bring added benefits for the ice hockey club.
Dundee FC are working to develop a purpose-built facility including a new stadium at the city's Camperdown Park, near to Stars' ice hockey arena.
Ward has seen the proposals in detail and thinks it could bring an influx of visitors to the area who may want to take in Elite League ice hockey.
"I've had chats with John Nelms, he's shown me the plans and they look absolutely fantastic," Ward told STV. "Good luck to them and I hope it goes well.
"But in the future, if there's going to be two hotels here and conference facilities at the new Dens Park then it's go to rub off on our attendances, surely.
"There's going to be people on our doorstep looking for some place to go and may start getting into ice hockey on that basis."
Involved in the club since its creation in 2001, Ward has seen steady progress for Stars over the years and says that the future looks bright after building on the success of last season, their eighth in the Elite League.
"Last season we did say to the fans that this was a crossroads and we've come through it," he said. "The future's looking really good.
"There's been a positive reaction from the fans.
"There's a really positive vibe after last season. We got to the play-off finals weekend in Nottingham, then we had to restructure the clubs, which we've done, and it's looking really positive."
The co-owner said there could be more local interest in the team in years to come, with a youth development programme looking to produce talent on their own doorstep to play alongside North American and European stars,
"We have, at the moment, 14 imports and that's the limit you're allowed at any one time in the league," he said. "We want to play a roster of around about 20 so there's six spots up for grabs and we would love it if every spot was taken by a boy from Dundee."