Elise Christie progresses by smashing Olympic record
The Scottish short track speed skater reach the quarter finals in South Korea.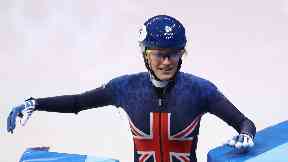 Elise Christie smashed her own Olympic record to reach the quarter finals of the short track speed skating at the 2018 Winter Olympics.
The 27-year-old from Livingston won her heat in Pyeongchang, South Korea with a time of 42.872 seconds in the fourth of eight heats.
But the new record was shortlived as South Korea's Choi Min-jeong set a time of 42.870 seconds.
Speaking to the BBC, Christie, who holds the world record in the event, said: "I know, it's crazy. I didn't even feel like I was going at my maximum. It went really well and I just tried to maintain a good speed after my start.
"I'm not going to lie, I don't think I've been as nervous as that for about six years. I think because everybody back home has been so excited to see me skate again, I thought, 'maybe I can't do this.' But I did.
"Racing hasn't gone well this year because of injuries so I wanted to put a statement out there to say 'I'm back.' I think I've showed them.
"My best race is the 1000m so I'm trying to build into that really. I'm not quite at full fitness yet. I just want to get it done and go out there and do it again. I feel quite good. It's going to be tough though. It's about getting the preparation in between done properly."
The quarter-finals of the short track speed skating take place from 10am on Tuesday, February 13.