Elise Christie crashes out of 500m speed skating final
The Scot had hopes of a first Olympic medal before a fall in the final.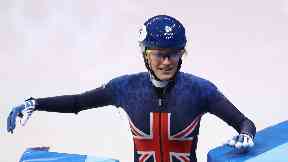 Elise Christie's hopes of a first Olympic medal were dashed when she crashed out of the 500m speed skating final.
The Scot had broken the Olympic record twice in the heats and quarter-final but faced fierce competition from Korea's Choi Minjeong, who beat Christie's times twice on her way to the final.
A second place finish in the semi-final meant Christie didn't have the best of starting positions and struggled to fight her way to the front.
Christie was trying to force her way into third when she seemed to collide with Canada's Kim Boudin before slipping and crashing into the barriers.
"I know it's short track and I have to be prepared for this but it still hurts," she told the BBC immediately after the race.
"It's out of my control. I got knocked over and that's that.
"I've got a few days to reset. I've got a week until my best event."
The 27-year-old, who has won world titles at 1000m and 1500m, as well as ten European gold medals, suffered heartache at the Sochi Olympics four years ago when she was disqualified from races at all three distances.

She will now aim for success in the 1000m and 1500m in Pyeongyang next week.