Commonwealth Games: Bronze for Jake Wightman in 1500m
Kirsty Gilmour also won bronze for Scotland in the badminton singles.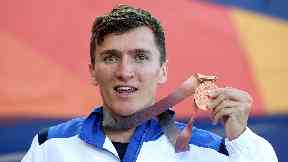 Jake Wightman surged onto the podium in the final stages of the men's 1500m at the Commonwealth Games.
The Scot finished with a flourish to bag a bronze medal and make up for his disappointment at finishing fourth in the 800m.
And Kirsty Gilmour landed a bronze for Scotland in the badminton singles. She defeated Canada's Michelle Li 21-11 21-16.
Elsewhere on the Gold Coast, Scotland's men's basketball team were thrashed 103-46 by Australia in the semi-finals and will play New Zealand for a bronze medal on Sunday.
In cycling's women's road race, Neah Evans finished eighth as Katie Archibald came 24th.
Scotland's men's rugby sevens team opened their campaign with a 27-0 win over Papua New Guinea and followed that up with a 41-0 win over Malaysia.