Scots marathon runner in hospital after collapsing 
Callum Hawkins was leading the marathon with a mile-and-a-half left.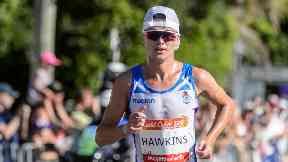 Scotland's Callum Hawkins is recovering in hospital after collapsing during the men's Commonwealth Games marathon.
The 25-year-old fell while leading the marathon with a mile-and-a-half left and needed medical attention.
He was struggling on the ground for several minutes in the 27 degree heat before eventually being helped into an ambulance.
Hawkins' Scotland team-mate Robbie Simpson took bronze behind winner Australia's Michael Shelley and Uganda's Munyo Solomon Mutai.
Team Scotland issued a positive update on the runner with a tweet that read: "We are very pleased to report that Callum is sitting up and speaking with his dad and Team Scotland medical staff.
"He is undergoing further tests as a precaution and we all wish him a speedy recovery."
Games organisers GOLDOC confirmed medical staff were posted at 500m intervals in the final kilometres of the course with radio communications.
Mark Peters, GOLDOC chief executive, defended the organising committee.
"I like many others was distressed to see a wonderful athlete like Callum collapse during the closing stages of today's Marathon," he said.
"We are offering every assistance possible to Callum and Team Scotland."
Going into the final quarter of the race Hawkins, who finished fourth in the World Championships last year, was looking set to claim his first major medal.
He had a lead of 41 seconds before his fall, which denied him the chance of victory on the Gold Coast.
Hawkins had moved away from the pack and opened up a gap from Mutai, who was initially behind him in second.
He passed the halfway point in one hour 07:44 minutes and was living up to his pre-race favourite tag before the drama.