The voice of boxing, Harry Carpenter, dies aged 84
The legendary BBC boxing commentator died on Saturday, a year after suffering from a minor heart attack.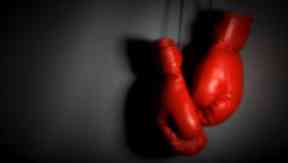 Harry Carpenter has died at the age of 84. The former commentator, widely regarded as the voice of boxing, died at King's College Hospital, London, on Saturday.
Carpenter, who was involved in broadcasting from the early 1950s and was the BBC's boxing correspondent from 1962 until his retirement in 1994, was famous for his friendship with former world champion Frank Bruno.
Bruno's catchphrase, "know what I mean, 'Arry?", featured often in their post-fight interviews, as the London fighter boxed his way to the World Heavyweight championship in 1995.
Carpenter leaves a widow and one son. His lawyer, David Wills, confirmed his death on Monday afternoon, saying: "He had been unwell since last summer when he had a minor heart attack.
"The funeral has not been arranged but will be a family funeral, to be followed by a memorial service in London."
Carpenter was a sports reporter with various newspapers, including the Daily Mail, before he became the BBC's full-time boxing commentator.
He also commentated on various other sports and was also involved in the corporation's coverage of Wimbledon until 1993.
A regular member of the panel on sporting programmes such as Sportsnight and Grandstand, Carpenter also co-hosted the Sports Personality of the Year awards throughout the 1970s and 1980s.
Boxing promoter Frank Maloney confirmed Carpenter's status as "the voice of boxing".
"He was probably one of the greatest commentators of all time," said Maloney. "His voice was so distinctive and I remember all those Ali fights and Bruno fights he commentated on. It's like a piece of boxing history has been taken away."
Bruno has yet to release a statement but is said to be "very upset and shocked" by the death of his friend.
A spokesman for the former WBC world champion said: "Frank was not aware of it. He is very upset and at the moment he does not want to give a statement, but has asked me to put some words out to say it was a real shock to him.
"He was obviously part of Frank's up and coming career from the early days when Harry used to commentate, particularly at the Royal Albert Hall, on Frank's boxing.
"Then they became a bit of a double act with the 'Know what I mean, 'arry' thing. From there they went on to do appearances together almost like a little cabaret act.
"The most exciting time was probably the Tyson fight when even Harry Carpenter, who was quite a cool man, sort of lost his cool. Frank says he will be giving a statement but at the moment he is very upset and shocked by it."