Doping accusations cast shadow over Armstrong's final Tour de France
Facing a court appearance when he returns to America over allegations into doping, fears over Lance Armstrong's integrity are causing more concern than who will win in Paris.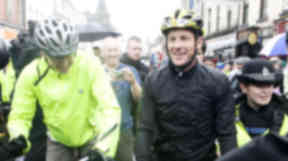 It used to be one of the crowning achievements in the world of sport: the arrival of the winning cyclist in Paris on the final weekend of the Tour de France. A Stakhanovite work ethic, allied to an ability to ride through the pain barrier when your muscles were aching, and the persistence to climb back onto the bike for another uphill struggle with gravity in the mountains were obligatory for those who desired to claim the coveted prize.
On one occasion, I interviewed the three-times champion, Greg LeMond, in a Dundee hotel – the American maestro was taking part in the Kellogg's Tour of Britain – and he spoke passionately, persuasively, against the rumours of doping and use of illegal drugs which were beginning to circulate around the peloton as the event's profile heightened.
But that was 20 years ago. Nowadays, it is no longer a question of whether the hormone monsters have tainted their vocation, but whether they have destroyed it altogether.
This is probably unfair on the majority of participants, who are currently sagging under the strain, as their long summer in hell moves towards a climax next Sunday. But, even as the defending champion, Alberto Contador, assumed pole position to retain his crown at the start of the final week of competition, the talk elsewhere was of the aforementioned LeMond being served with a grand jury subpoena as part of a federal investigation of alleged fraud and doping charges against Lance Armstrong, whose inspirational battle against cancer has made him a global hero amongst people of every age, gender and race.
At this stage, nothing has been proved, despite a whirl of accusations which have been aimed at Armstrong during the last decade, the majority of them from French sources, who appear strangely happy to drag their sport down into the gutter even while bringing their country's premier sporting contest into disrepute. But this new splurge of lurid headlines and spectre of legal proceedings doesn't emanate from L'Equipe, but as a consequence of allegations made by American cyclist, Floyd Landis, in a series of e-mails, which were sent to cycling and doping officials this spring.
Landis, who won the 2006 Tour de France before being stripped of the title for doping offences, has claimed that the use of banned substances was commonplace among members of the US Postal team when he used to ride as Armstrong's colleague. In short, the charges could hardly be any more grave for one of the sport's most iconic personalities.
At the moment, Armstrong has other things to worry about. In common with Michael Schumacher, he seemed to believe that growing old was something that only happened to other people. The seven-times Tour victor duly returned to the circuit last year, since when he has, understandably, toiled to reproduce his past glories, languishing well behind the likes of Contador, Andy Schleck, Thomas Voeckler and Christophe Riblon, the competitors who have attracted most coverage in the last few days.
Yet Armstrong isn't stupid and he knows only too well that he faces a serious reckoning once he returns to his homeland and tries to defend himself against a string of detailed and grievously damaging accusations. It was one thing for him to dismiss the so-called "evidence" of transgressions, which was peddled by his European detractors, but this is another matter entirely. For one thing, he will be squaring up to LeMond, who will have his day in court in Los Angeles on July 30, and we can anticipate these two compatriots digging in their heels and raising merry hell.
"We are overjoyed and we hope the truth will finally come out," said LeMond's wife, Kathy, last weekend. Armstrong, meanwhile, who used to date Sheryl Crow and counts the former president, George W Bush, among his friends, is sticking to the party line. "I am not going to participate in any kind of witch hunt. As long as I live, I will deny that [I had any involvement in doping]. There is absolutely no way I forced people, encouraged people, told people, helped people or facilitated anything. Absolutely not, 100 per cent."
The trouble is that the Tour has become synonymous with nefarious activities and the whiff of corruption, to the stage where many of us are no longer convinced by any such denials. To be brutal, we have heard these sort of declarations so many times before that they have ceased to have any real meaning. I was in Sydney at the Olympic Games in 2000 when Marion Jones swept all before her in a blitz of publicity, gold medals, seven-figure endorsements and rousing renditions of the Stars and Stripes.
And where is Jones now? She is in disgrace, under a permanent cloud, after serving six months behind bars in 2008, that's where. She could defeat any rivals on the track but beating the Feds when you are under oath in front of the American judiciary is a far tougher mission.
 
Ultimately, if Armstrong is innocent and has never used steroids, EPO, HGH or any of the other acronyms which now infest certain sports, most notably athletics and cycling, it is difficult to conceive of any settlement in damages which would remotely compensate for the myriad slurs and stains which have been cast on his good name.
If he is guilty and he has to confess as much in responding to Landis and LeMond in court, then all his mystique, all his cache of honours – such as gaining the Jesse Owens Trophy in 2000 and the Laureus World Sportsman of the Year award in 2003 – and his integrity as somebody who resoundingly proved there is life after cancer will be rendered meaningless.
In comparison with which, do you care who wins the Tour de France on Sunday? No, neither do I. And that is a problem as much for cycling as for Lance Armstrong.