Scotland take on the world at MMA and Muay Thai event
An international Mixed Martial Arts and Muay Thai event is set to place Scottish fighters against those from Holland, Thailand, Ireland and England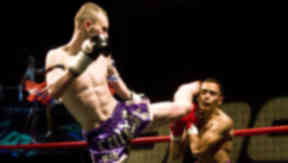 Scottish fighters will take on their foreign counterparts in an international Mixed Martial Arts and Muay Thai event this weekend. The sell-out event showcases Scottish fighters against those from across the globe, including England, Holland, Ireland and Thailand.
To begin the 'Scotland v the world' theme, traditional Scottish pipe and drum band Clanadonia will open the event at 1pm this Sunday, September 19 The 15-fight card, run by Sportfight Scotland, is taking place at Oran Mor in Glasgow for the fifth time, and will also feature home-grown talent facing one another.
"The international fighters we've brought over mean the calibre of the fights is very high," event organiser Guy Ramsey said. "Oran Mor is always a great venue and a sell-out event, with a high technical standard of Muay Thai in particular on show.
"We're hoping to give people a positive experience, and hopefully move the sport out of the dark ages of scout halls and into better venues like Oran Mor."
There will be four types of fight on show at the event. As well as Mixed Martial Arts (MMA) fights, there will be many A, B and C class Muay Thai bouts. A-class fights differ from B-class in allowing the use of elbows, and lasting longer one minute longer per round. In turn, B-class fights last 30 seconds longer per round than C-class, and allow knees to be used, which C-class fights do not.
The headline fight will see Scotland take on Ireland, as Jordan Calder fights Aaron O'Callaghan in the last bout of the event. Scotsman Calder is unbeaten in his nine professional fights, and is the current UKMF British champion. The 56kg fight will take place under A-class rules, with five rounds lasting three minutes.
"Jordan is one of the most successful Scottish Junior fighters ever, but O'Callaghan is pretty much Ireland's top Muay Thai fighter," Ramsey said of the contest. "It's a real test for Jordan, and it should be a great fight."
Multiple-title holder Hilary Mack will fight the Dutch Linda Ooms in the co-main event in the 52kg weight class. Scotswoman Mack holds the STBA Featherweight title, in addition to the ISKA British title and WIKBA World title. However, she will face a tough test against Ooms, a fellow national and world title holder.
Scotland will also square up to Holland in another fight on the card, when Paddy O'Brien of the Griphouse gym fights Tim Holweg from Holland, in a B-class 75kg bout. O'Brien praised his coaches at the Griphouse, in particular Guy Ramsey and visiting trainer from Thailand, Yodyut Kiatyongyut, also known as Son.
He said: "My training has been really good, I've trained in gyms throughout the world and the Griphouse is up there with the best of them. When you focus on something for so long you just want to get in the ring and fight. Sometimes the waiting proves harder than the fight.
"I don't know much about my opponent other than he's Dutch. They usually use a lot of Boxing and low kicks so I'm expecting that. They usually have a weakness defending the clinch, and I feel strong at that range so I'm going to try and force that."
Griphouse gym fighter Brian Totty will face Thailand-native Joe POS Team, a moniker adopted as Thai fighters use the name of their gym when fighting. It will be a tough test for Totty, considering the martial art of Muay Thai originated in Thailand, as its name suggests. The fight will be contested under B class rules, at 63.5kg.
Two fights on the card will see hostilities renewed against the 'Auld Enemy', when Scots Andy Napier and Asma Khurshid fight Faktory gym members Juan Cervantes and Annete Fink respectively. Both are C-class bouts, but Napier v Cervantes has an 82kg weight limit; whereas Khurshid v Fink will be fought at 55kg.
More than just the headline fight will be Scotland against Ireland, as two other fights on the card have a similar background. In a C-class fight at 55kg, Griphouse gym fighter Ailsa Currie will match up to Emma Pye.
The other Scotland v Ireland affair is a 66kg MMA fight between Robert Whiteford and Neil McGuigan. Scotsman Whiteford was a Judo Bronze medallist at the 2006 Commonwealth games, and is an exciting Mixed Martial Artist with powerful striking and takedowns.
The Hostile Territory fighter is hoping to improve on his 2-1 record. His coach, Paul McVeigh, said: "He is probably one of the strongest featherweights in the UK. He has a technical ground and pound game that should keep everyone entertained."
Brian Hyslop will fight against Darren Gilchrist of the Fighter's Hive gym, in the other MMA fight on the card. McVeigh, who is also Hyslop's coach, said: "Brian brings an impressive Boxing style to the ring, combined with explosive wrestling. He's fighting a Muay Thai guy, so we could be in for an explosive war."
Of the fights between two Scots on the card, the pick is undoubtedly the 67kg A-class bout Michael Wiseman versus Chris Moir. This will be the second encounter between the two men, after their first fight was awarded Fight of the Night at an eight-man tournament in Aberdeen.
Their first fight was originally judged as a draw, and only after an extra round was Chris Moir awarded the victory. This fight is a step up from their last, which was fought at B-class.
Wiseman said: "Hopefully it will be as good a fight as the last one, the fans should enjoy it. He's a tough guy, I don't think I can stop him, so I'm going to have to outscore him. I can see the fight going the distance, as long as it doesn't get stopped by cuts."
The remaining fights on the card are Scot v Scot affairs. In a 65kg C-class fight, Mani Singh of the Griphouse will fight Eric Pavlowka of the Glasgow Thai Boxing Academy. Griphouse fighter Michael Anderson will take on Mark Price of Wossobama in a C-class 55kg affair.