Ronnie O'Sullivan breaks 147 record in controversial circumstances
"The Rocket" treated Glasgow fans to a record-breaking 10th maximum but almost reluctantly after being told there was no individual prize.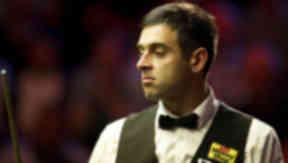 The World Open in Glasgow was the scene for a record-breaking display from Ronnie O'Sullivan as the Londoner took the outright record for maximum breaks at professional level. "The Rocket" raced through his 147 until the final shot but it appeared he had to be encouraged to complete the feat by referee Jan Verhaas.
The break came in the final frame of O'Sullivan's 3-0 win over Mark King. Having already compiled breaks of 38 and 75, O'Sullivan began the third frame with a red-black before pausing to ask Verhaas if there was a prize for a maximum break.
After checking, the referee told O'Sullivan there was no individual payout for highest break in the tournament and the Londoner continued his frame. However, after virtually clearing the table, O'Sullivan stopped on a break of 140 and shook King's hand, apparently ready to retire with the match won but the final black remaining on the table.
Verhaas had a word in the player's ear, following which he quickly sank the final ball to rapturous applause. The 147 meant that O'Sullivan now holds the record for maximums outright, having previously shared it with Stephen Hendry.
O'Sullivan freely admitted afterwards that was prepared to leave the break incomplete after hearing there was no cash bounty for a maximum. He revealed that Verhaas had asked him to finish the break "for the fans" but that he was not moved by the achievement itself.
"I wasn't going to pot the black to be honest with you, until Jan talked me into it," he told the BBC.
"What's the point of making a 147 if they're only going to give you four grand for it?
"They're getting stingy. I thought Barry Hearn was meant to be putting money into the game, not taking it out."
O'Sullivan's win over King set's up a mouth-watering fourth round tie with fellow maverick Jimmy White on Wednesday.