Scots driving champ Dario Franchitti speaks about his Indy 500 win
The driver, from Bathgate, West Lothian, spoke to STV News about his achievements and fame in the US.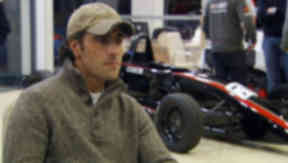 Scottish Indy car driver Dario Franchitti has spoken about his achievements and fame in America.
In May, the West Lothian driver beat 32 rivals and won the Indy 500 for the third time in his career.
It is America's biggest race where drivers go round the track at speeds in excess of 220mph and a first prize of $2.5m.
Back in Scotland, Franchitti spoke to STV News at an event promoting the grassroots of the sport.
Asked if he compared himself to other Scottish drivers such as Jim Clark and Jackie Stewart, Franchitti said he could not do that.
He said: "I think if you consider yourself in the company of your heroes, an equal to your heroes, there's maybe something wrong with you. I certainly don't."
The driver, who is married to Hollywood actress Ashley Judd, is a household name in the US but does not get recognised when he is home in Bathgate.
The 39-year-old said it allowed him more freedom.
He said: "It's a great thing to be able to walk around and not have that kind of recognition or whatever in the street, in day to day life.
"There's a certain frustration that you know the Indy wins wasn't more made of, maybe. There's maybe a little frustration there but in every day life it's a great thing."
He also revealed he is interested in the outcome of the Leveson inquiry as his wife is often the subject of press reports around the world.
Franchitti said: "I think number one - don't read the newspapers is how I deal with that. You know, if something's the truth that's one thing, but very rarely is that the case.
"There's a whole can of worms going on right now with that and it will be very interesting to see what protection people are offered whether it's somebody that's famous or not."