Ricky Burns could make unification fight with Adrien Broner in April
Meeting of WBO and WBC lightweight champions will have to wait until after January.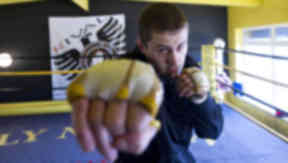 Ricky Burns will not make a unification fight with American champion Adrien Broner his next fight.
The WBO lightweight champion of the world will not take on Broner, the WBC belt-holder, until at least April.
Burns was due to fight in London on Saturday but his defence was cancelled after two potential opponents withdrew.
Promoter Alex Morrison said the decision was taken by Burns, 29, who wanted another defence before going for the unified titles.
Morrison said: "I spoke to Ricky this morning and we decided he will not be fighting Adrian Broner in February.
"Ricky didn't want to jump from a non-event to the biggest fight of his life in a matter of weeks.
"He'll make a defence of his title in Glasgow in January and we'll look at Broner after that."
Where the potential fight between the two world champions is held is still a matter for debate – but Morrison has named his price for Burns to jet to the USA for the match up.
He added: "Ricky will fight in America if the money is right.
"That's £400,000 net, after fees, after tax. We could be looking at April."