Elite Ice Hockey League: Braehead Clan edge the derbies against Fife Flyers
Andy Alston reports as Clan come out on top in Scottish derby but Flyers are hoping to bounce back.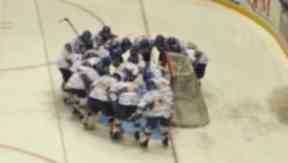 The Gardiner Conference witnessed back-to-back Scottish derbies between Braehead Clan and Fife Flyers at the weekend, with the Clan taking three points from a possible four.
The Kirkcaldy outfit won in overtime at Braehead on Saturday night with the Clan winning the return leg the following evening, despite benching just 11 skaters.
Saturday's fixture was an interesting affair and one that could have gone either way but Derek Keller found the back of the net early into overtime to seal two points in a 4-3 win for the Flyers.
Fife assistant coach, Danny Stewart, revealed that he was pleased with his side's result at Braehead.
He said: "It was a bit back and forth. For the first ten minutes they came out and controlled the play. For whatever reason after that delay with the boards we seemed to pick up our game a little bit and we came back and played a better second half of the first.
"It was kind of back and forth all night. Our power plays were even, we capitalised on a couple then they did as well, so it was just one of those games where the next team that scored was going to win and fortunately it was us.
"We can be a bit more physical. We've been preaching about it but we're just not getting what we want in that sense so we know we need to be more aggressive."
On Sunday the Flyers were looking to win in front of their home crowd but two goals in the third secured the 3-1 win for Jordan Krestanovich's side, who said goodbye to NHL forward Drew Miller the previous evening.
Despite coming away with just two points from the weekend Fife will be optimistic over their chances of securing a strong position in the Gardiner Conference.
The Flyers have won six of their last ten games – including four victories against sides in their conference – but Fife will be hoping that the absence of Casey Haines will not thwart their efforts.
The 26-year-old sustained an injury in their 3-2 overtime victory over the Edinburgh Capitals at the end of last month and will be eager to see their captain return to the ice as soon as possible.
Stewart added: "He's a huge player for us. He's our top player, our heartbeat and he plays every situation so losing his was massive but other guys have stepped up."
The veteran forward, now in his seventh season in the Elite League, has a team that is showing great potential and one that has sprung a few surprises in recent months including a 4-1 victory over the Belfast Giants at the start of December.
Stewart is no stranger to success having won the Elite League three times as a player and he will be hoping that his side can challenge for silverware in the coming years.
Andy Alston is a journalist and amateur hockey player. You can follow him on Twitter @andyalstonf1