Andy Murray brands sports doping ruling as 'biggest cover up in sport'
Star's fury as court orders evidence from convicted Spanish sports doctor to be destroyed.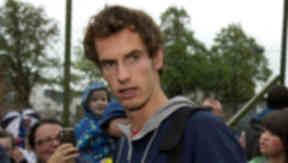 Andy Murray has slammed a court case examining a doctor who was doping sportsmen as a "cover up".
On Tuesday a judge in Madrid handed Eufemiano Fuentes a suspended one year jail sentence for doping cyclists.
However the court also ordered that more than 200 bags of blood and plasma gathered from Dr Fuentes' offices in the Operacion Puerto investigation are to be destroyed.
The bags may contain damning evidence against athletes in other sports. Fuentes has said he has worked with footballers, tennis players and athletes during his controversial career.
But judge Julia Santamaria ruled that handing over the blood bags to Spain's anti-doping agency, the AEA, would contravene the rights of the unknown sports stars who met with Dr Fuentes.
Scots tennis star Murray, the current world number two player, took to Twitter to brand the decision "a joke".
He said: "Operacion Puerto case is beyond a joke. Biggest cover up in sports history?
"Why would court order blood bags to be destroyed?"
The AEA has said it will appeal the decision to destroy the evidence. It wants to test the blood to identify which athletes were doped by Dr Fuentes.
Fuentes' illegal techniques with cyclists included giving them blood transfusions to boost their red blood cells, as well as supplying banned EPO, testosterone, insulin and hormones.
The doctor, who has been banned from practising for four years, spoke in the past about working with footballers but said he could not name them as he had received "death threats".
Scottish tennis player Colin Fleming joined Murray in condemning the court's decision.
He tweeted: "What possible reason could there be for the judge in the Fuentes case to order the bags of blood to be destroyed?
"Other than preventing athletes he has helped blood dope being uncovered.
"Hope the appeal to have them tested is a success."