Ricky Burns planning for re-match with Raymundo Beltran in February
The Coatbridge fighter hopes to take on the Mexican in Glasgow in February next year.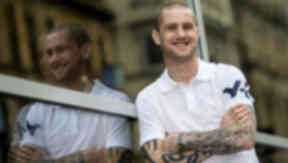 Ricky Burns wants to return to the ring with a re-match against Raymundo Beltran next year.
The WBO lightweight champion resumed light training last week after surgery to his jaw after his last title defence against the Mexican last month, which was scored a draw by the judges.
Burns, 30, is expected to make a full recovery and claims he wants to face Beltran again in February 2014 after their bout was controversially scored as a draw.
The fighter's jaw suffered a clean break in the second round of the contest and Burns admits his boxing was severely inhibited by the pain.
Burns said: "I was in survival mode, that wasn't me in there at all.
"It would have been a totally different fight if this hadn't happened.
"I've always said when I'm in a fight that I'm going to give it my all. With a broken jaw I just did what I had to do.
"On the Monday [after the surgery] when I spoke to Alex [Morrison] and Eddie [Hearn], I told them, as soon as I get back to training, I want that re-match.
"I want it for my benefit. I've got a point to prove here as it would have been a totally different fight.
"Raymundo Beltran does deserve a re-match but I've taken a lot of stick on Facebook and Twitter from people saying I lost the fight."
Burns admits in the darkest hours before and after surgeons fitting a metal plate in his jaw following the agonising injury, he did contemplate whether he would ever box again.
He added: "Those first few days after the operation were just a nightmare. Not being able to open my mouth and trying to eat was just impossible.
"It did cross my mind, with the pain I was in, and after I saw the X-ray it didn't look good. I was starting to panic."
There had been speculation that mandatory challenger Terrence Crawford would be next in line for the Scot.
After their first fight, Beltran claimed he should have been named the victor and said any rematch would have to take place in America.
Beltran said: "I fight anybody but I want to fight in a fair place, I want to fight in America.
"Let's do it in America, I think I deserve a chance.
"Let's go to America and have a fight there - I am a champion."