Undercards in 'coma' brawl at Ricky Burns press conference
Stephen Simmons and Wadi Camacho became embroiled in a vitriolic slanging match after a bitter Twitter spat.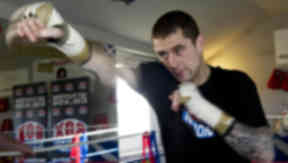 Ricky Burns' press conference in Glasgow to promote his forthcoming WBO Lightweight title fight against Terence Crawford turned ugly when undercard fighters Stephen Simmons and Wadi Camacho became embroiled in a vitriolic slanging match.
Before the Coatbridge champion takes on the unbeaten American at the SECC in the city on March 1, Simmons will defend his WBC International Silver Cruiserweight title against Camacho but they almost came to blows at the City Halls as the result of a bitter Twitter spat between the pair.
The Scot began haranguing Camacho at the top table, imploring his opponent to "look at me" as he called him a "rat" and promised to send him "home in a coma" amid a relentless series of other insults.
Camacho sat facing the front, sporadically shouting "cookie monster" at the Edinburgh fighter and the traditional head-to-head photographic opportunity became literal as both men pressed foreheads together before being separated by promoter Eddie Hearn.
The Spain-born challenger, who boxes out of Canning Town, then clashed verbally with Simmons for several minutes before order was eventually restored.
Afterwards Hearn said: "There has been a lot of build-up on Twitter and social media and things get personal and what you saw there was a culmination of the hype and the banter that has turned a little bit sour.
"It is two guys who don't really like each other."
The confrontation overshadowed the promotion of Burns' return to the ring for the first time since September when he earned a highly-disputed draw with Ray Beltran, albeit the 30-year-old Scot fought with a broken jaw sustained in round two.
While most observers, as well as Burns, wanted a rematch against the Mexican, Hearn explained they were left with no option but to take on mandatory challenger Crawford.
"Beltran might get his chance in the fight after this fight but Top Rank represent both fighters and they made it clear which fighter they want to fight Ricky Burns," he said.
"Such is Crawford's level, I don't think Ricky can be criticised for not fighting Beltran, it is what he wanted to do but it was not possible.
"Ricky took a lot of unnecessary stick over the Beltran fight. He broke his jaw in round two.
"I felt he lost the fight but he was given a draw. But it is not his fault. He had to endure a tremendous amount of pain during that fight but he got through it.
"Crawford is a much better fighter than Beltran and this is a much tougher fight."
Hearn admits he feared for Burns' future when he saw him lying in hospital nursing his broken jaw.
"When I left hospital that night I was sure that was it for Ricky Burns," he said.
"I don't know what is in a man that makes him want to go back and do it all again. That is why fighters are very special. They are tough, tough people.
"Why would he want to go through it again? It is not as if he is struggling for money. It's because he is a fighter, that's what he loves to do".
Burns admits he also had some concerns about his future.
He said: "When the surgeons are talking to you, when you see the X-rays, obviously it is going to be in the back of your mind; 'what if I can't fight again, what if it happened again?'
"But once we knew the bone was knitting together, that went out the window.
"The first spar is over with, it has been tested once or twice and the jaw feels fine. I have been boxing for 18 years, that was my first serious injury so let's hope it is the last."