Glasgow Warriors ace recalls 'distressing' experience in Paris
Mike Blair reveals squad watched attacks unfold on TV in French capital ahead of Euro clash.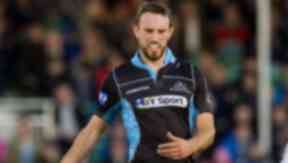 Former Scotland captain Mike Blair has recalled a "distressing" and "difficult" weekend for the Glasgow Warriors squad caught up in Paris in the wake of terror attacks.

Gregor Townsend's team were due to play Racing 92 in the French capital on Saturday before Friday night's horrifying events saw 129 people killed at sites across the city.
Glasgow's Champions Cup clash was postponed as a result with scrum-half Blair admitting he and his team-mates were stunned by the events in France.
The 34-year-old said: "It was a really difficult weekend. We were fortunate that we were about 40 minutes north of the city centre but obviously hearing about it on the Friday night was a bit distressing and left
us in limbo about what we were doing.
"Obviously people were thinking about everyone in Paris but at the same time wondering what would be happening with our game.
"It wasn't until half past nine the next day that we heard for sure what was happening and it wasn't until about half past ten that we knew the game wasn't going to be played while we were over there.
"Originally they might have played it on the Sunday or Monday but by then they said it wan't happening and we'd be travelling back to the UK."
There were two explosions outside the Stade de France while members of the public were shot at the bars and cafes in the city. Eighty nine people were killed at the Bataclan concert venue.
Blair, who played in France with Brive during the 2012/13 season, watched the terror unfold on television and expressed his support for the decision to postpone the game.
He added: "With social media it's hard to avoid it. Most guys knew that evening.
"Some guys were kind of able to park it and sleep, other guys kept a firm eye on it. I think everyone was very comfortable with the decision not to play and were 100% behind that decision.
"You want to be respectful to the people of Paris and at the same time you don't want to be playing a game when you've got other things on your mind."
Former Edinburgh player Blair spoke about his experience of the French people and spoke about the importance of sport ahead of the national football team's friendly with England.