Vern Cotter embraces Scotland's nerves ahead of Ireland match
Squad butterflies can give Scots an edge at Murrayfield in Six Nations opener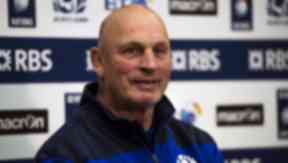 Vern Cotter is hoping the nervous energy of the Scotland squad will translate into a powerful start to their Six Nations campaign.
The head coach reported a "nervousness" and "edge" to his team as he named his 23-man group to take on Ireland in the championship opener at Murrayfield.
Reporting on the mood within his camp, Cotter said: "That desire we have seen the last few seasons is there, and it is an exciting start.
"Ireland have just recently beaten the All Blacks, and they've beaten Australia and South Africa.
"So they are not just one-off games they are winning - Ireland are consistently a very good team and now we get a chance to measure ourselves against them.
"I can feel a nervousness within the group - they know it is a big game - and they are ready to roll their sleeves up and have a go."

Asked to explain why he welcomed the nerves among his players, Cotter said: "Being a little bit nervous means you are probably sharper and bit more on edge.
"I think you need to be wary of the opposition - if you go in comfortable you will be in trouble.
"You need to do your homework against these guys and we need to be sharp and able to adapt at any given moment.
"We know they have got plays we haven't seen. When they bring them out, how will we adapt to them?
"It is about all these sorts of things."