Scotland to open 2018 Six Nations with trip to Wales
The full fixtures for the next two tournaments have been confirmed.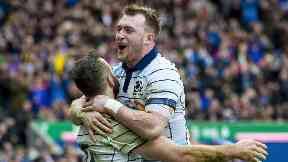 Scotland will open the 2018 Six Nations Championships with an away game against Wales.
The tournament will take place over seven weekends in 2018, beginning on Saturday, February 3 and finishing with a Championship 'Super Saturday' on March 17.
The fixtures for the 2019 Championship, which will begin on February 1 and conclude on March 16, have also been released.
Wales will be looking to avenge Scotland's 29-13 win in this year's tournament while back-to-back winners England will begin their campaign away to Italy the following day.
2018 fixtures
Saturday, February 3: Wales v Scotland (2.15pm), France v Ireland (4.45pm)
Sunday, February 4: Italy v England (3pm)
Saturday, February 10: Ireland v Italy (2.15pm), England v Wales (4.45pm)
Sunday, February 11: Scotland v France (3pm)
Friday, February 23: France v Italy (8pm)
Saturday, February 24: Ireland v Wales (2.15pm), Scotland v England (4.45pm)
Saturday, March 11: Ireland v Scotland (2.15pm), France v England (4.45pm)
Sunday, March 12: Wales v Italy (3pm)
Saturday, March 17: Italy v Scotland (12.30pm), England v Ireland (2.45pm), Wales v France (5pm) 
2019 fixtures
Friday, February 1: France v Wales (8pm)
Saturday, February 2: Scotland v Italy (2.15pm), Ireland v England (4.45pm)
Saturday, February 9: Scotland v Ireland (2.15pm), Italy v Wales (4.45pm)
Sunday, February 10: England v France (3pm)
Saturday, February 23: France v Scotland (2.15pm), Wales v England (4.45pm)
Sunday, February 24: Italy v Ireland (3pm)
Saturday, March 9: Scotland v Wales (2.15pm), England v Italy (4.45pm) 
Saturday, March 10: Ireland v France (3pm)
Saturday, March 16: Italy v France (12.30pm), Wales v Ireland (2.45pm), England v Scotland (5pm)