Cockerill wants Edinburgh Rugby team to make fans proud
New head coach claims commitment and hard work can turn around club's fortunes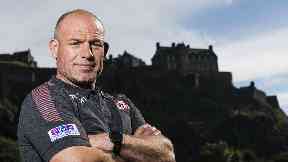 Richard Cockerill has demanded hard work and commitment from his Edinburgh Rugby players as he seeks to create an identity that the fans can believe in.
The 46-year-old took over as head coach of Edinburgh this summer with a brief to improve the club's performance that regularly see them languishing in the bottom four of the league.
After two Premiership titles in eight years in charge of Leicester Tigers, then a stint at the high-pressure, multi-millionaire Toulon in France, Cockerill arrives in the capital with vast experience at the highest level of northern hemisphere club coaching.
And he has immediately sought to establish a unifying culture around the club.
Asked what he will demand of his side on the field, Cockerill said: "Commitment to the cause. We've got good players - they are skilful players. Last year they actually played some decent stuff at times.
"We need to make sure we are fit, mentally robust and when we get on the field we are hard to beat.
"I don't just mean defensively or at the set piece - I mean with ball in hand as well.
"We need to make sure that people leave the stadium they are proud of what their team has put out there.
"That might be win, lose or draw, but at least they go away thinking: 'That's my team - they put everything on the field and I can identify with what they are trying to do'.
"The reality is that we are not one of the best sides at the moment. That can change, but it is going to take a lot of hard work.
"In one-off games this team can turn up. But a team that can turn up and win one week against a top side, then lose the next week against the bottom side is not going to be good enough for me."
Cockerill was a high-profile appointment for Scottish Rugby, after Alan Solomons was sacked early last season and attack coach Duncan Hodge filled in on an interim basis.
The former England international hooker, who won 27 caps in the 1990s, accepts he is managing at a different level now after his time in the rich English and French leagues, but welcomes the change of scene after moving his family to Edinburgh to take up the job.
Cockerill said: "It is certainly a huge challenge and if I didn't want to take it on then I wouldn't have come.
"It is just different levels of expectation. Financially it is different in the money we have to spend on the squad.
"Players just want to get better. Coaches just want to improve players and win.
"I'd much rather not promise a lot and deliver more than the other way around.
"We just have to get out there and work hard to deliver something that this club hasn't been able to for the last few years."