Taylor: Scotland defence will be 'hell of a lot better' 
The coach was disappointed with his players' display in the win over Samoa.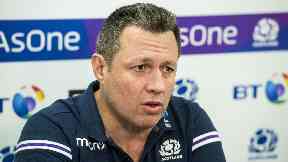 Scotland's defence will lift their game when the All Blacks visit Murrayfield after shipping 38 points to Samoa, according to their coach Matt Taylor.
The national team got off to a winning start in the autumn tests with a 44-38 victory on Saturday.
It was the points conceded that concerned defence coach Taylor, however, ahead of their clash with New Zealand this Saturday.
"I think we're all disappointed with how we defended," Taylor said.
"Particularly when over the last six months there's been games where we've defended pretty well like the Australia game or the Ireland game so to let ourselves down at home was really disappointing.
"There's a few things we could put it down to. It was the first time we've been together in a long time, there were different guys coming in from different systems and I'm not in control of Glasgow so I don't have as much time with the players. It's about getting everyone on the same page."
He added: "The good thing about it is that we'll be a hell of a lot better this weekend but we'll need to be because if we don't then we'll come second.
"It reminded me very much and was nearly a carbon copy of the World Cup. We'd score then they score and as a defensive coach it's not very good for the heart."
'I personally was very disappointed, as were the players.'

Scotland defence coach Matt Taylor
Despite his concerns, Taylor took the positives he could from the performance and felt it could be the perfect preparation for facing the might of the All Blacks.
He said the high-profile opposition has already sharpened the focus of the Scotland players and he expected a big reaction.

"People probably don't give Samoa the credit in terms of the individual brilliance and how powerful athletes they are," he said.
"I think certainly I would rather be going into this game a wee bit worried rather than being overconfident, put it that way.
"Certainly after the performance at the weekend, from a defensive point of view, we all know that we have to lift the intensity and be a lot better than what we were because it's not good enough, particularly at home."
He added: "I personally was very disappointed, as were the players. We've talked about that and a few of the leaders spoke about that today so hopefully we get a reaction.
"I can tell already, the guys coming in... when the calendar was put out the All Blacks game is the one that everyone focused on.
"We haven't even had a training session but you can tell the guys are very focused already. We're looking for that focus and intensity to be brought into the weekend's game."